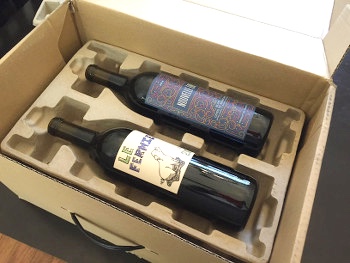 Let's have story time. Once upon a time, there was a beautiful (more or less), young(ish) woman who spent all her days raising 3 small children. One dark, gloomy day, after picking up dried, crusty playdough, cleaning up uneaten lunches, fighting naptime battles, and one long, harrowing quest to locate a missing Blankie, our young(ish) mother found herself tired, rundown, and in desperate need of a shower. But alas, there was no time for rest; and the mother sat in the corner and cried while her children ran amuck through the house with underwear on their heads.
Just then, the clouds parted and the sun shone brightly. The woman opened her front door just in time to see a handsome prince in a white, shining Fedex truck. He strode up to the door, knelt before her, and presented her with a magical box. And inside the box was wine! The mother was saved! And in that moment, there was much rejoicing and she knew she was going to be alright. The End.
LOL. Ok, so my life is really not that dramatic. And I love my kids to pieces so I really don't mind when they run around with underwear on their heads (I'm usually running right along behind them snapping pictures, so…). BUT, that one Friday out of each month certainly is rejoice-worthy. A few months ago, I joined Winc, a monthly wine subscription service that delivers new bottles of wine right to my door. I decided to treat myself since I seldom go out and spend tons of money on clothes/shoes/purses, etc. And let me tell you, it's one of the coolest things ever! I went online and filled out a little quiz to determine my "palate", and then they sent me 3 bottles to try for free. I was immediately hooked and have kept up the subscription with no plans of ever canceling it. I look forward to it every month.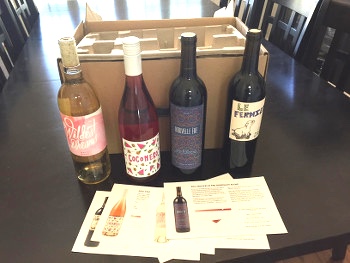 I can pick which wines I want, or they'll choose for me, based on my palate quiz. And they always include info cards for each bottle, along with a recipe that pairs well with the wine. I love, love, love it. I've tried so many new kinds of wine that I never would've picked for myself, which means now I have so many new favorites. I really just can't say enough good things about Winc.
And I've seen several other awesome looking monthly wine subscriptions out there, as well. Including Bright Cellars, which is created by a couple of MIT grads with a passion for wine. Really, you can't go wrong with any of these (although I've noticed Winc is one of the less expensive ones, so…win-win!).
Since I have no idea what I'm doing as far as wine goes, I'm always super overwhelmed when I walk into a big wine store with shelves and shelves of different wines. That's why I love having this subscription. Someone else chooses for me, and I can go online or to the app and rate the bottle. Based on my ratings, my flavor profile gets more and more fine tuned. I mean, seriously! How cool is that?!
If you think you might think you'd like to give Winc a try*, click HERE and get started. They'll take care of shipping AND send you a bottle for free! Yay for free wine!
Do you have a wine subscription? What kind? I'd love to hear from you!
*Winc didn't hire me to write this post or compensate me in any way, and all opinions are 100% my own. But I'm not gonna lie, if somebody paid me to drink wine…well, I wouldn't be mad about it. 😉