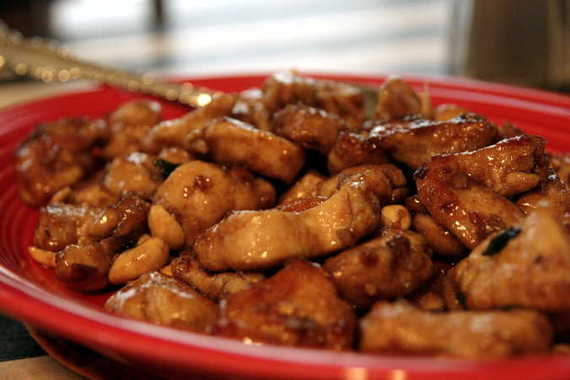 Big news everybody – BIG news! Last night, I had my first experience with cooking Chinese/Asian food!!! That deserves a big 'ol freaking cookie! I know that sounds ridiculous, but for whatever reason, I've just never gotten around to cooking Chinese food – we usually just head over to Pei Wei or the local take-out place. But now that I've discovered these dishes, I think there will be a lot more Chinese food in the future! Yippee!
I've got a few of these type of recipes saved, but I chose this Kung Pao Chicken I saw on Pennies on a Platter recently because it has peanuts and I loooooove peanuts! It was super easy and took no time to put together. I paired it with a quick and easy recipe for Fried Rice that I found on Allrecipes.com. And voila! The perfect meal!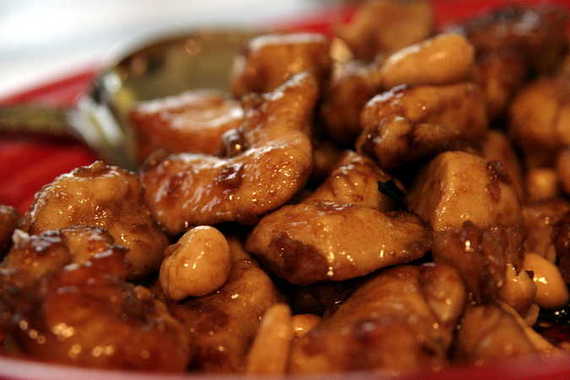 The sauce for this chicken was delicious and simple, and of course I loved the crunch of the peanuts. I think next time I'll add a little more heat – maybe a little Cayenne pepper or a chopped chili- a little more "PAO"! Hehe…
Kung Pao Chicken
-Blog Chef
1lb boneless, skinless chicken breasts (cut into 1" pieces)
1 tablespoon cornstarch
2 teaspoons sesame oil
3 tablespoons green onions (chopped)
3 garlic cloves (minced)
½ teaspoon crushed red pepper flakes
½ teaspoon ground ginger
2 tablespoons rice wine vinegar
2 tablespoons soy sauce
2 teaspoons sugar
1/3 cup dry roasted peanuts
Combine chicken and cornstarch in a small bowl and toss to coat. Heat sesame oil in wok (or large deep-dish skillet) over medium heat, add chicken and stir fry 5-7 minutes or until no longer pink inside. Remove chicken from wok.
Add green onions, garlic, red pepper flakes and ginger to the wok and stir fry for 15 seconds.
Combine vinegar, soy sauce and sugar in a small bowl. Mix well and add the sauce to the wok.
Return chicken to the wok and coat with sauce. Stir in roasted peanuts. Heat thoroughly. Top with additional green onions if desired and serve over white rice. (Or fried rice, in my case!)
The fried rice took about 10 minutes total – I love recipes like this! I think next time I'll add a little oyster sauce and a tad more soy sauce – other than that, it was perfect!
Fried Rice
-Allrecipes.com
2 cups enriched white rice (I used Minute Rice)
4 cups water
2/3 cup chopped baby carrots
1/2 cup frozen green peas
2 tablespoons vegetable oil
2 eggs
soy sauce to taste
sesame oil, to taste
Cook rice according to package directions. In a small saucepan, boil carrots in water about 3 to 5 minutes. Drop peas into boiling water, and drain. Heat wok over high heat. Pour in oil, then stir in carrots and peas; cook about 30 seconds. Crack in eggs, stirring quickly to scramble eggs with vegetables. Stir in cooked rice. Shake in soy sauce, and toss rice to coat. Drizzle with sesame oil, and toss again.