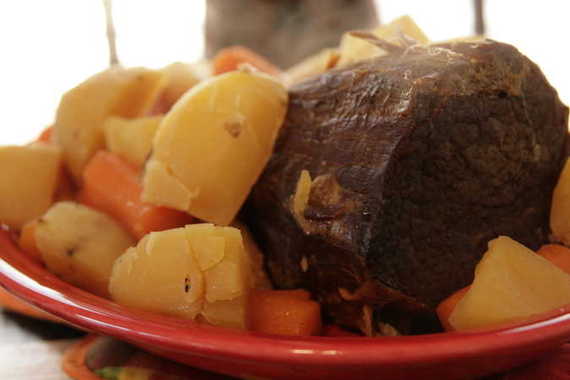 This is how we do pot roast in my family – or as I used to call it when I was little, "roast-pot-beef". Not sure why, really.  Pot roast is a typical "Sunday Dinner" meal; its just one of those meals that tastes better after church on Sunday – maybe God makes it taste better, I don't know. In my family, "Sunday Dinner" is sort of a holiday, in that, we all get together, eat until our sides hurt, then sit in the living room and visit; just like Thanksgiving, Christmas, or Easter. When I was a kid, we usually had most of our Sunday Dinners at Nana's house (don't get me wrong, my mother hosted her fair share of them too, but it seems like we were at Nana's more), and Nana would usually ask my sister and me what we wanted her to fix – Lindsay's answer was pretty much always fried chicken, but mine was always roast-pot-beef; with carrots, potatoes, rolls and some sort of delicious nobody-can-make-it-as-good-as-Nana dessert. Bliss.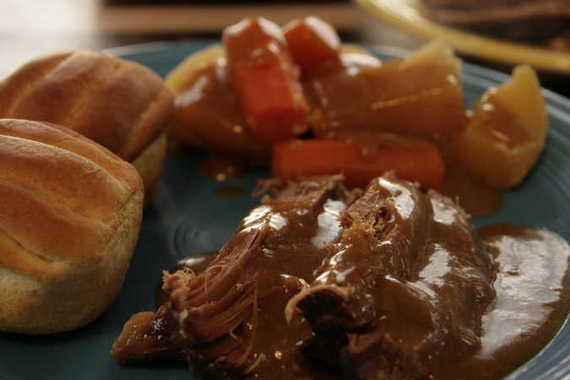 I still, to this day, would much rather eat my mother's or Nana's pot roast. Mine's ok, but there's just something about theirs that makes me eat about three times as much as a dignified lady ought to eat. Hehe…dignified. But, living an hour away from my mother and Nana makes it much more difficult for us all to get together for our Sunday Dinners; and when there's just no way hubby and I can make the trip, I just make do with my own pot roast. So here it is, for your enjoyment…or not, whatever.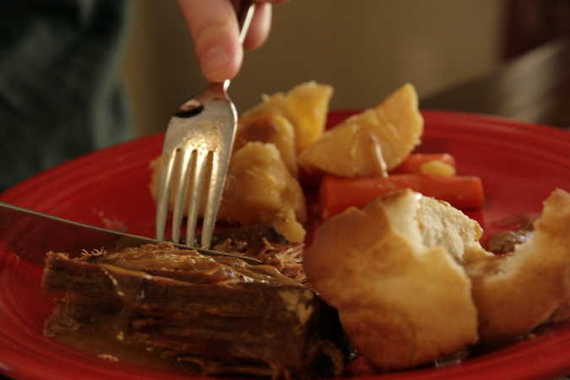 (Hehe – you can see Hubby's reflection in his fork!)
Easy Pot Roast
I usually start with a nice lean chuck roast or round roast – really, whatever is on sale. Season it with plenty of salt, pepper and a little garlic powder, put it in the crock pot with about 1/2 cup water. If you want it to be ready by lunchtime, put it in the night before and cook it on low until the next day; around 10 or 11am, take the roast out, and add your potatoes and carrots (for the two of us, I use about 2 potatoes and 4 or 5 carrots), then add the meat back on top of the vegetables and continue to cook for another hour or so, until the vegetables are tender.
If you want the roast for dinner instead of lunch, put the roast on in the morning, and cook on low all day – add vegetables in the last hour of cooking.
To make the gravy, take the roast and vegetables out of the crock pot and place on a platter and cover with foil. Dump all of the cooking juices from the crock pot into a shallow pan over medium heat; add a little flour (about 2 tablespoons) mixed in with about 1/3 cup hot water to the pan and whisk constantly to thicken. Add salt and pepper to taste. *If your roast doesn't give off enough juice, you can always add about half a jar of store-bought beef gravy.
*Note: both my mom and Nana cook their pot roast in the oven instead of the crock pot, but I think the crock pot is easier for some reason. Maybe that's why mine isn't as good as theirs…