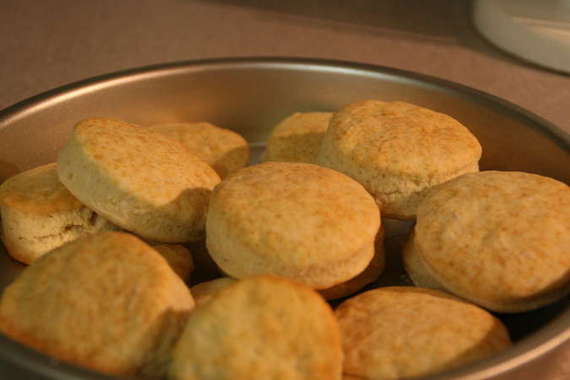 When I was a little girl, getting to go play at my great-grandmother's house (whom we've always called "Baba") was a huge treat for my big sister and me. Her house was always warm and inviting and she always had something fun for us to do, whether it was letting us rummage through her jewelry boxes, playing paper dolls, or making mud pies in the back yard. She also had a great talent for telling stories. One of our favorite things was sitting in the floor, listening to Baba tell funny stories from her childhood, or of she and her husband, or my personal favorite – Peter Rabbit.
However, one of my fondest memories of afternoons at Baba's house were spent sitting on her kitchen counter tops watching her make homemade buttermilk biscuits. Baba is one heck of a good cook – her fried chicken, coconut cake, and peach cobbler (especially her peach cobbler), and buttermilk biscuits, to name a few, cannot be matched. But, this post is just about her biscuits, so I'll get back on track (but trust me, you'll definitely be seeing many more of Baba's recipes on here!). When I was a kid, I loved the taste of the raw biscuit dough, and she would let me have the little "scraps" that were leftover from cutting out the circles. Baba's biscuits always tasted fantastic with breakfast or dinner, but my personal favorite way to eat them was with butter and sugar (sugardy butterdy biscuits, we called them as kids….I know, we were weird kids, I guess).
I've always been scared to re-create recipes of Baba's; I guess because I know they'll never be half as good as hers were (plus, there's just something about a recipe made by your grandmother that makes it taste extra special). However, after some encouragement from my mother, I decided to try my hand at Baba's buttermilk biscuits. Of course, as I suspected, they weren't as good as hers, but they weren't half bad, either……
Buttermilk Biscuits
adapted from The American Woman's Cookbook
2 cups all purpose flour
½ teaspoon baking soda
1 teaspoon baking powder
1 teaspoon salt
2 tablespoons cold shortening (plus 2 more tablespoons for greasing pans)
1 cup cold buttermilk
Preheat oven to 450 degrees.
Sift all dry ingredients together
In a food processor, pulse shortening and flour mixture together until it resembles coarse meal. (or you can do it the old fashioned way- nix the food processor and cut the shortening in by hand)
Add the buttermilk and mix until dough forms a ball. (it will be sticky)
Dump the dough out of floured surface and form into a ball (you'll need to add a little more flour to be able to do this – approx. 1 or 2 teaspoons)
roll dough out about ¾ of an inch thick; using a biscuit cutter, or round cookie cutter, cut out biscuits.
Place a tablespoon of shortening in a cake pan and let it melt in the oven for a minute or so (you'll probably need two cake pans)
Place each biscuit in the warm cake pans after turning them in the melted shortening to coat.
Bake for 8-10 minutes or until golden brown.