Mother's Day was kind of unfortunate this year. My mom was having my sister and her family and my grandparents stay for the weekend, and I offered to have a Mother's Day brunch on Sunday morning for everybody (9 people total). I was so excited to have everyone over – neither my grandparents or my sister had ever had a meal at my apartment. Joel and I worked so hard to get everything ready the night before so that all I would have to do Sunday morning was pop the casseroles in the oven. Everything was perfect. And then, as luck would have it, I ended up being sick all through the night. I was still feeling horrible Sunday morning, so my mom told me to go back to bed and she and my grandparents would just come back the next morning. So, it sort of worked out anyway – although my sister and her husband weren't able to be there, nor my dad, which sucked. However, we still had a really good time, and hopefully they enjoyed the food.
My menu consisted of:
Fresh Mango Bread
Pioneer Woman's Breakfast Potatoes
Baked Caramel French Toast
Bacon, Egg and Cheese Strata
Peach Bellinis
I had made the french toast before at Christmas and it was delicious – once again, it didn't disappoint. Please, please, PLEASE excuse my appalling pictures- it was early Monday morning and I was expecting guests in any second, and I was still a little under the weather. I probably shouldn't even post these pictures, but I wanted you to have some sort of idea of what the dishes look like (even if they do resemble something you might feed to your dog).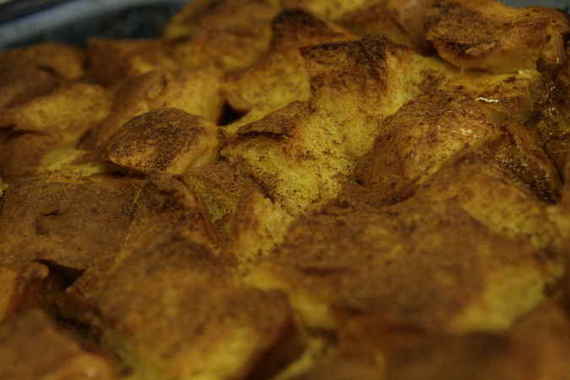 (That's the baked french toast, in case you can't tell…..I barely can)
Baked Caramel French Toast

– from The Magic of Christmas Gooseberry Patch Cookbook
1/2 Cup butter
1 Cup brown sugar, packed
2 Tablespoons light corn syrup
1 loaf french bread,cubed (I used Challah)
6 eggs
1 1/2 Cups milk
2 teaspoons vanilla extract
cinnamon to taste
Blend together butter, brown sugar and corn syrup in a medium saucepan over medium heat. Bring to a boil, then remove from heat. Pour into ungreased 9×13 baking dish. Place bread cubes in baking dish over sauce. Whisk together eggs, milk and vanilla until well blended; pour over bread and sprinkle with cinnamon. Let sit in the refrigerator for at least an hour (my plan was to let this sit overnight, but since we ended up having guests the next day, it sat for 2 nights and was still perfect! I just splashed a little half and half over it before i baked it). Bake at 300 degrees for one hour.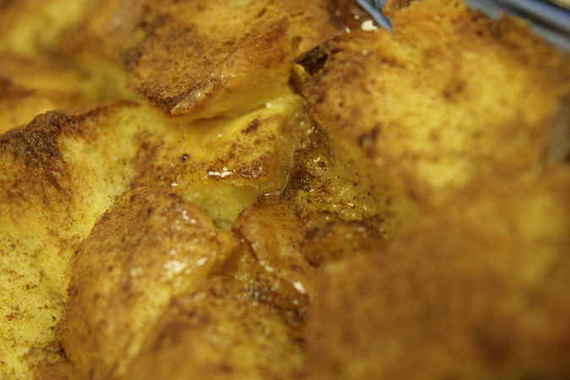 This egg strata was amazing – I can't wait to make this again. Even with the bread, it was still light and fluffy and full of flavor! Once again, I present you with an unbelievably horrible picture. Please don't base your opinion of this dish on my picture – it tastes SO much better than it looks!! Give it a try!!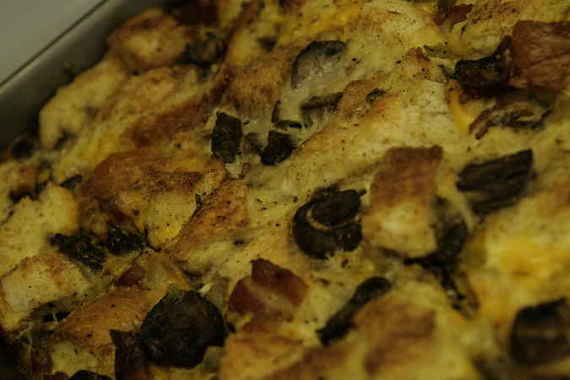 Bacon, Egg and Cheese Strata
from allrecipes.com
12 thick slices white bread, cut into 1 inch cubes (I used almost a whole loaf of french bread)
1/4 cup crumbled cooked bacon (I used half a pound)
2 cups shredded Cheddar cheese
1 1/2 cups chopped fresh mushrooms
12 eggs
2 1/2 cups half-and-half
1 teaspoon Dijon mustard (I also used a little dry mustard)
(I also added a small can of diced green chiles and a little garlic powder)
Toss cubed bread with bacon, cheese, and mushrooms, and pour into a 9×13 inch baking dish. Whisk together eggs, half-and-half, and mustard (this is where I added the green chiles) until smooth, then pour evenly over cubed bread. Cover dish with plastic wrap, and refrigerate overnight.
Preheat oven to 350 degrees.
Remove plastic wrap from the baking dish, and bake strata in preheated oven until the top is golden brown, and the eggs are set, about 1 hour. Let stand for 10 minutes before serving.