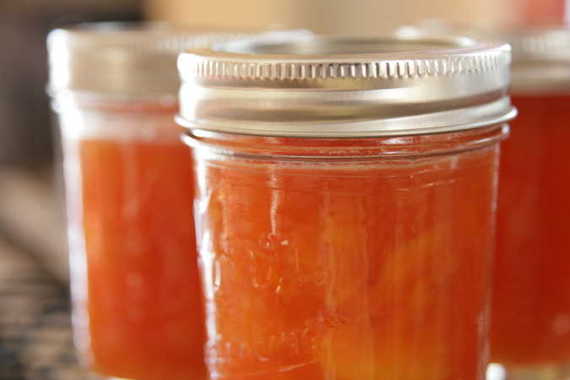 LOOK! Look what I've been doing today!! I'm so proud of myself…homemade jam!!! This is something I've been wanting to do for a while now, but always thought it would be too difficult. Luckily, my good buddy Tabitha talked me into it! She makes her own jam all the time and said it was no big thing. So, after about a thousand phone calls to Nana and a quick prayer- I had six beautiful jars of homemade peach jam (well, actually they're preserves, but we don't need to get technical…)!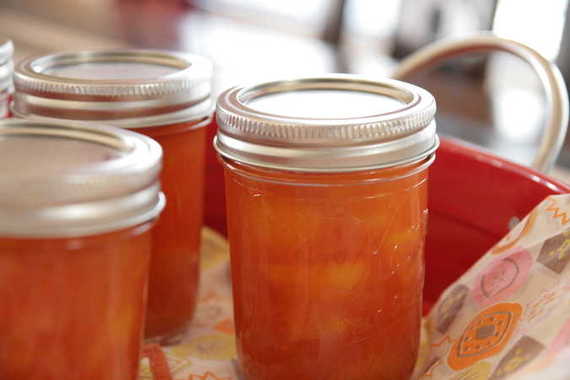 This has been such a fulfilling year for me as far as overcoming obstacles in the kitchen – I tackled my fear of yeast, bought and used a pastry bag numerous times, and made homemade preserves – just like my great-grandmother did! I felt almost as if I were chanelling Baba while I was spooning hot peach-y goodness into jars this afternoon. I know she'd be proud of me, making my own preserves. I know I am!
Ok, I know I'm making a huge deal out of this, but the truth is, making your own jam/jelly/preserves is really easy (just make sure you have your grandmother on speed-dial…just in case, ya know?). I bought a little package of Sure-Jell (as Tabitha advised) and (sort of) followed the directions that came with the box. I started with ten ripe peaches that I got at the Dallas Farmer's Market yesterday, boiled them for about 2 minutes so the skin would peel off easily, cut them into little chunks, thew them in a pot with 2 cups of sugar and the juice of 1 1/2 lemons, brought it to a rolling boil, turned the heat down, added half a packet of the Sure-Jell pectin, stirred it all together and cooked it for about 5 minutes more, then spooned it into 6 sterilized jars and put the tops and lids on tightly. And voila! Peach preserves! If you're freaking out (like I was) about sterilizing the jars and lids – don't. It was totally easy. I just brought a big pot of water to a boil and carefully added the jars with a pair of tongs, let them boil for about 5 – 7 minutes, carefully removed the jars and set them on a clean kitchen towel to dry, then added the lids and tops for 30 seconds or so, removing them with the tongs and setting them on the towel as well. And that's it! I really hope all of these (very informal) instructions haven't been confusing in any way – if so, please let me know and I'll try to re-word it a little better for you!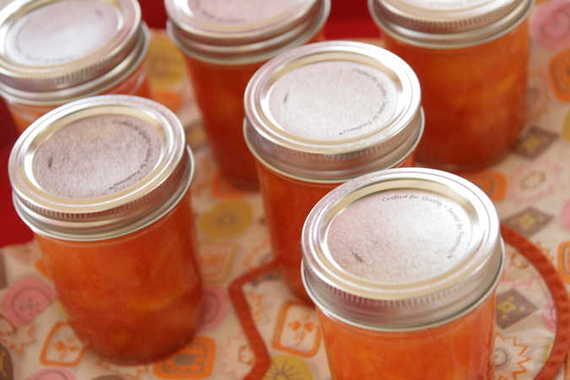 This was really so much fun – I really enjoyed making these preserves today. And I absolutely cannot wait to spread these on some homemade biscuits tomorrow….I'm thinking breakfast-for-dinner!! Yippee!!!