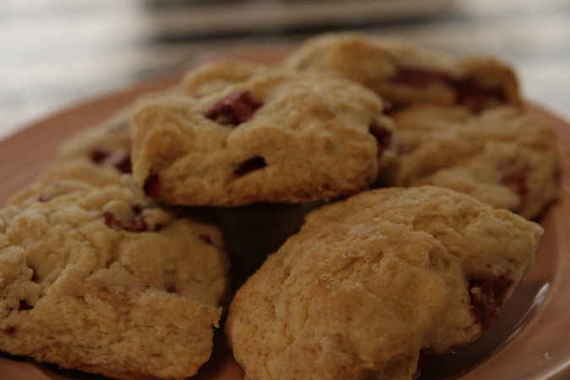 I actually made these scones months ago….these pictures have been sitting in my "to blog" file for ages now. I don't know why I've waited until now to finally post them; I guess I just didn't notice them or something. Silly me! This recipe comes from Katie over at Good Things Catered, and since she posted them (probably over a year ago) it seems like everyone has made them (she has that affect on people!). Yes, this is the same Katie from whom I got the famous "Easy Cheesy Beer Bread" – she's good, I'm telling you!
These scones are full of fresh, juicy strawberries (thus their name, "Juicy Strawberry Scones") and not overly sweet, so they're perfect for breakfast or brunch with your coffee. I loved them smeared with melty butter as a late night snack! I even sent some to my hometown for my Great Grandmother, Baba to try, and she loved them! She really enjoys things like that, so I was thrilled when I heard back that she really enjoyed them. Give these a try for your next breakfast party, or even just a plain 'ol Saturday morning…they're perfect for any occasion!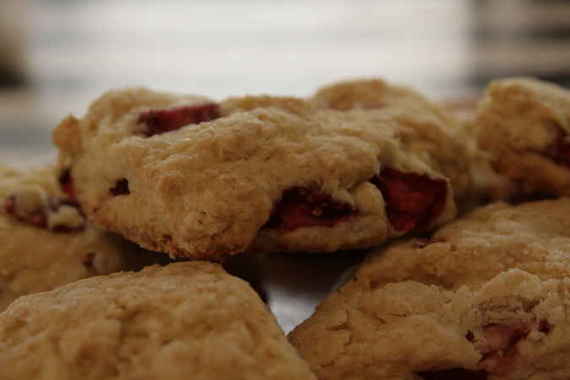 Juicy Strawberry Scones
-Good Things Catered
2 1/4 – 2 1/2 c. all purpose flour (depending on how ripe your strawberries are)
1/4 c. granulated sugar, plus extra for sprinkling
1 Tbsp baking powder
1/4 tsp salt
1 stick (8 Tbsp) butter, chilled and cut into small pieces
1 egg
1/4 c. yogurt
1/4 c. milk
2 tsp orange zest
1 c. fresh strawberries, diced
Preheat oven to 350 degrees and line baking sheet with parchment.
In small bowl, combine egg, yogurt, milk, zest, whisk to combine thoroughly and set aside. In large bowl combine flour, sugar, powder, salt, and whisk to combine.  Using pastry cutter or two knives, cut butter into flour until all pieces are smaller than pea-sized.
Add strawberries, and toss to coat. Add wet ingredients to dry and mix in lightly with fork until dough just comes together.
Turn dough out onto well floured work surface and pat into large ball. Cut dough in half. Shape half of dough into flat disk shape and cut into 8 slices.
Place on baking sheet and repeat with other half of dough. Sprinkle tops of scones with sugar and place in the oven.
Bake until turn slightly brown, about 25 minutes. Remove from oven and let cool on baking sheet for 10 minutes. Transfer to a wire rack and let cool (or eat right away!) Enjoy!