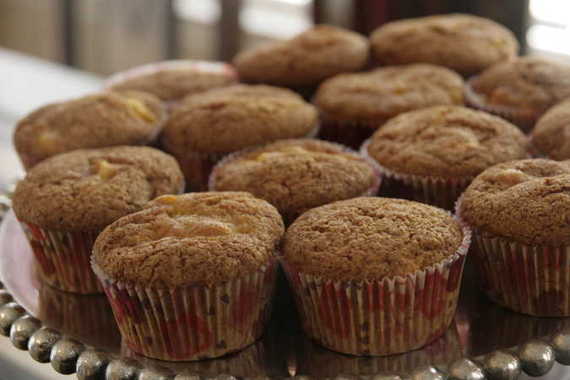 Yes, I know my use of an exclamation mark in the title is probably a little over-the-top for muffins, but it seems like lately, I'm in a constant state of excitement, so I figure I get a free pass. Why am I so extra perky, you might ask? Well, for a couple of reasons – #1.) As I type this, there are two men installing a beautiful set of French doors in my dining room where there used to be a big, ugly, non-functioning behemoth of a sliding door before. That excites me. Big time. And #2.) it has finally stopped raining long enough for me to arrange my patio furniture and get the pool swim-ready. I now have a beautiful, tropical (ish) backyard getaway, perfect for al fresco dining with my hubby, followed by a long, leisurely dip in the pool – summer is here!! And finally, #3.) This week is the last week I have to teach voice lessons – after Thursday, I'm done, baby! Woo hoo!! So, now it's probably a little easier for you to understand my over-excitedness for all things lately – including mango muffins.
This week's recipe is Fresh Mango Bread, chosen by Kelly of Baking With the Boys. This is the second time I've made Dorie's mango bread, so I decided to make muffins this time around. Plus, muffins are easier to just grab and eat at a brunch (I served them at Mother's Day Brunch). I was surprised at the amount of muffins I got out of one recipe – at least 20 – there may have been more, I can't remember. Everybody really enjoyed these – in fact, everyone took a few home for later, which I always count as a compliment! Besides cutting the mangos being a giant pain in the butt, I always enjoy making this recipe because everyone seems to really enjoy it. A great summer recipe!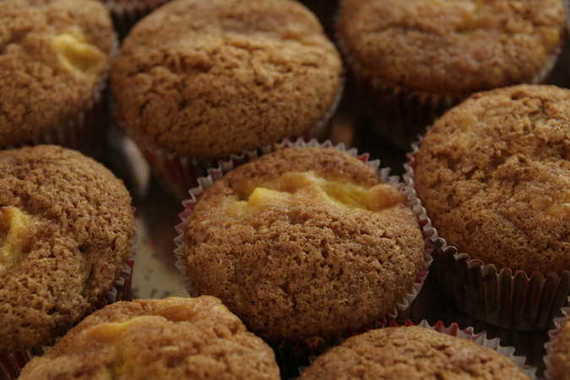 If you'd like the recipe for these little beauties, head on over to Kelly's blog – she'll post the recipe for you! Happy summer!