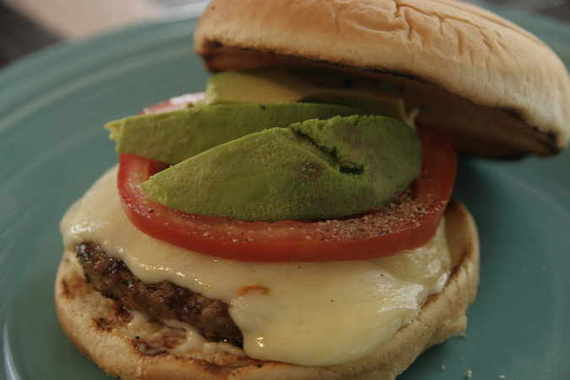 This is one of our standby favorites. I mostly make it in the Spring/Summer, but it's good all year round. I first saw this recipe in a Rachael Ray Magazine a year or so ago and have been making it ever since. I love it because it's healthy, full of flavor and of course, really darn tasty. As you'll be able to tell from my picture, I didn't stick too close to the recipe this time – usually I do, but as you all know, I'm busy as heck this month, so I'll take a shortcut anytime I can.  I used an awesome jalapeno cheddar I found at Whole Foods and just piled the avocado right on top instead of mixing it in with the mayo – I also forgot the cilantro, oops. (Don't worry, it was still really good…)
Salsa Verde Turkey Burgers
–Everyday With Rachael Ray, March 2007
1 avocado, halved and pitted
1/2 cup mayonnaise
1 clove garlic, finely chopped
Salt
1 pound ground turkey thigh meat
1/2 cup salsa verde
4 slices pepper Jack cheese
4 kaiser rolls, split
1 cup fresh cilantro leaves, coarsely chopped
2 small green or red tomatoes, sliced (I did NOT use green…the only time I eat green tomatoes is if they're fried.)
Scoop the avocado flesh into a small bowl. Add the mayonnaise and garlic and mash with a fork until well combined but chunky. Season with salt and set aside.
In a medium bowl, combine the ground turkey and salsa. Divide the mixture to form 4 patties.
In a large nonstick skillet over medium-high heat, cook the patties for 4 minutes on one side. Flip and top each with a slice of cheese; cover and cook for 4 minutes more.
Spread the avocado aioli on the split side of each roll bottom and cover with 1/4 cup cilantro. Top with a patty and 2 tomato slices; set the roll tops into place.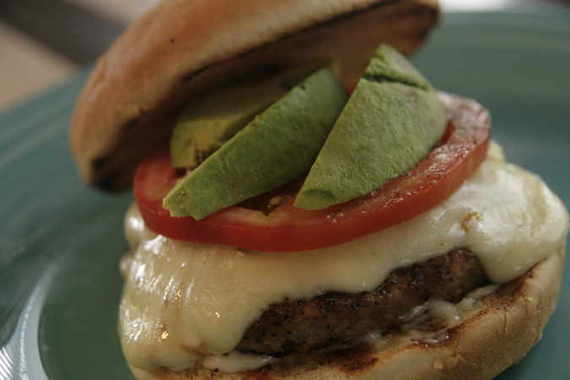 This would be a great company recipe – have a couple of friends over, grill up some salsa verde burgers and go to the opera! What? That's what I'm doing tonight….I bet plenty of young people gather their friends and go to the opera…………….yeah, ok fine, you're right…I'm a geek.