Here's a useless, random fact that you might not know about me – I love to read. I'll pick up a good book and finish it in less than a week, or even a couple of days, depending on how long it is. And, I read super fast, which drives my hubby crazy… My favorite books are Pillars of the Earth, by Ken Follet, the Stephanie Plum novels, by Janet Evanovich and my all-time, absolute favorite – the Outlander series by Diana Gabaldon; but the Stephanie Plum books are what I'm focused on today. I pretty much read these books (there are 13 of them as of right now, but a new one is coming out in a couple of weeks) every year – they're totally hilarious. Stephanie Plum is an unorthodox, accident-proned bounty hunter in Jersey with a wacky family and really funny sidekicks. Her 80-something year old grandma is particularly  hilarious (there's lots more to the stories, but I won't go into it right now). Anyway, her mother always lures her over for family dinners with her homemade pineapple upside down cake. In the books, Stephanie is always talking about how delicious her mother's cakes are – especially the pineapple upside down cake. Everytime I read these, I always end up craving it – even though I'd never even tried one! I decided a couple of weeks ago to put an end to my cravings and give one of these famous cakes a try. So here is my very first Stephanie Plum-inspired pineapple upside down cake.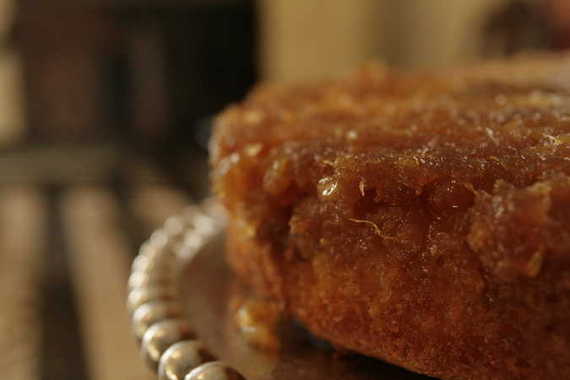 I did a lot of searching before deciding on the best sounding recipe – a fellow food blogger's 70-year old recipe that belonged to her grandmother. And boy am I glad I picked this one – talk about delicious! This was seriously some of the best cake I've ever had in my life. I left out the maraschino cherries (blech!) and used crushed pineapple – I'm telling you – this was miiiiiiighty tasty. Hubby and I both loved it. So, thank you, Stephanie Plum, for inspiring me to make this delicious cake (even though you're a fictional character..)!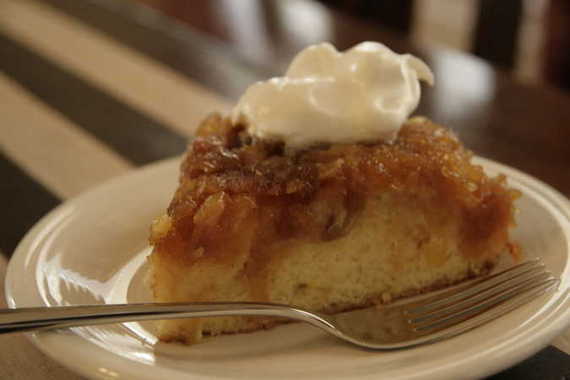 This was delicious with a big dollop of whipped cream – I can't wait to make it again! If you don't try the cake, at least do yourself a favor and read the Stephanie Plum novels – they're a good, quick read and totally hilarious (with a touch of romance). Make yourself a cake this weekend! Happy baking!
Pineapple Upside Down Cake
–Food Blogga
1/2 cup butter (8 tablespoons)
1 cup brown sugar
1 (20-ounce) can sliced pineapple
6 maraschino cherries
a few whole pecans
1 cup flour, sifted*
1 teaspoon baking powder
1/8 teaspoon salt
3 eggs, separated
1 cup granulated sugar
5 tablespoons pineapple juice
1 teaspoon pure vanilla extract
Position a rack in the center of the oven, and preheat to 350 degrees F.
Add butter to a 9-inch-round baking pan, and place inside of a warm oven until melted, about 5 minutes. Remove from oven, and sprinkle brown sugar evenly over the butter. Add 6 pineapple slices and place a cherry inside of each one. Fill in the nooks and crannies with whole pecans.
In a medium bowl, combine sifted flour, baking powder and salt, and stir.
Using a hand mixer, in a metal or glass bowl, beat egg whites at high speed until fluffy. Set aside.
In a separate bowl beat egg yolks with sugar at medium speed until creamy. Add pineapple juice, and vanilla extract, and beat well. Add the flour mixture to the creamed mixture, and beat until well combined. Fold in the egg whites with a rubber spatula. Pour cake mixture evenly over the fruit, and smooth with the spatula.
Bake for 40 minutes, or until cake is golden and a toothpick inserted into the center comes out clean. Place on a wire rack to cool for 10 minutes. Run a blunt knife around the edges of the pan to loosen the cake. Invert carefully onto a plate. Serve warm or at room temperature.
*Note: Sifting the flour creates a lighter cake.