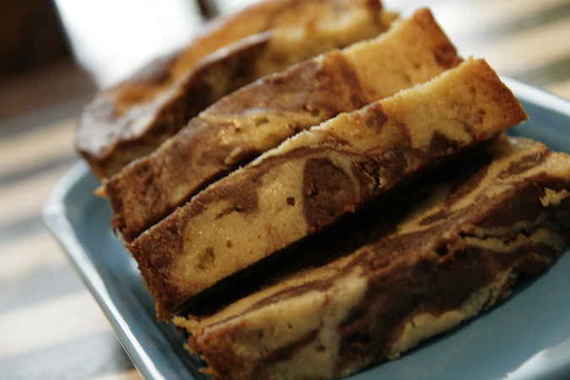 …but this cake is!! Tee hee, there's my sad attempt at a little humor……ok enough of that! This week's recipe was the Black and White Banana Loaf, chosen by Ashlee of A Year In The Kitchen, and I gotta say – the more I thought about it, the more I decided this was a fantastic pick! Way to go, Ashlee!! It seems like an awful lot of the picks lately have either been chocolatey and richer than rich or a fruit cobbler or some sort. (Don't get me wrong, I love rich and I love me some cobbler, but I can only handle so much, right?) This cake..loaf..bread..whatever you want to call it absolutely hit the spot! It was slightly chocolatey, but not knock-your-socks-off-go-into-a-sugar-coma chocolatey – just a hint of chocolate, and it was the perfect amount. And the banana flavor was just strong enough, but not too strong – again, perfect. Both hubby and I (and hopefully my parents – I left half of the loaf with them!) thoroughly enjoyed it – it was the perfect amount of sweetness and really moist!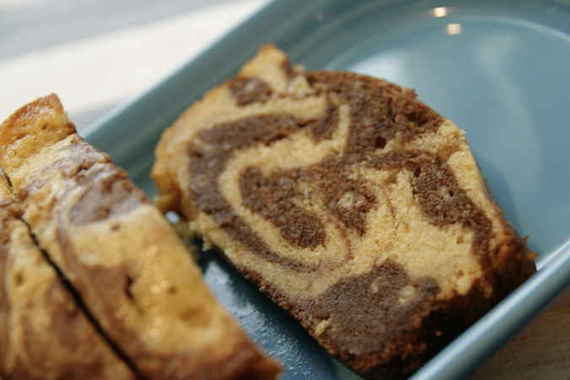 I got lucky and my marbling somehow turned out perfectly (well, in my opinion it did, at least!). Some of the folks at TWD had said their batter was too runny and that there marbling didn't quite turn out, so naturally I was afraid the same thing would happen to mine, but I guess the baking gods were smiling upon me and my loaf!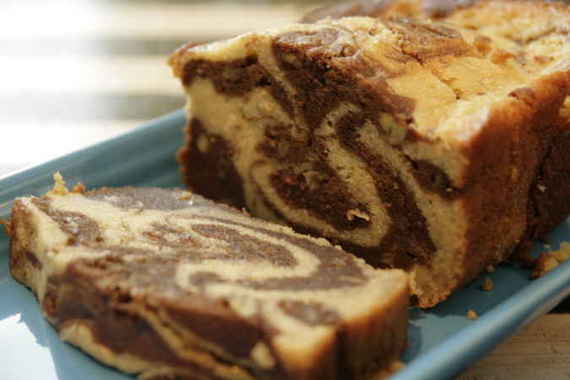 If you want the recipe, head over to Ashlee's blog and check out her take on the Black and White Banana Loaf. Also, check out our TWD site to see all the other fabulous bakers' versions of this weeks' recipe!   I'm just gonna tell you right now – you want this recipe…its stinking GOOD.