So you've all seen the lovely picture of our new house in one of the posts below…yay, shiny new house! We've been living here for almost two weeks now and its really become a "home" – all the furniture's moved in, the rooms are painted, the pictures are hung, the hideous 80's-esque sliding mirrored doors in the bathroom are gone (thank the Lord for that!). Everything is near perfect….except when it comes to photographing my food!!! In our old apartment, I had a perfect picture-taking area in my dining room; there was a window that provided exactly enough natural light – perfect for an amateur food blogger with little to no photography skills. So now I have my wonderfully large, formal dining area in my lovely new house- perfect for hosting a large dinner party….but there's no place to take good pictures! I have plenty of windows, but by the time I get finished making dinner/baking for TWD, there's not enough light coming through them. All I get is shadows. Boo!! Now I know I'm probably being a tad dramatic (its what I do best), and I'm sure after lots of experimenting I'll eventually find an ideal spot for my food pics! Until then, I guess I'll go ahead and post these fugly pictures….please don't judge me.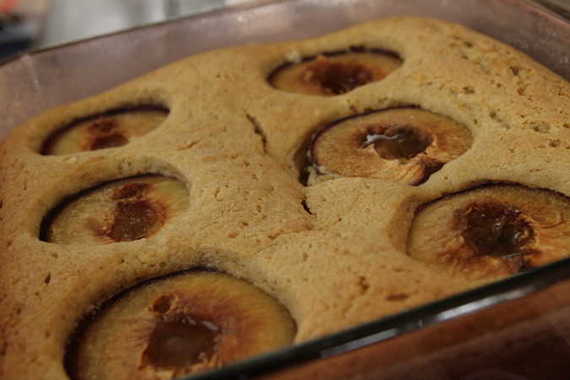 Ok, I'll get to the point of this post, which is obviously, my first TWD in my new kitchen!! YIPPEE!!  So, Dimply Plum Cake, chosen by Michelle of Bake-En…this was "WOW-OHMYGOSH-BLOW-ME-AWAY GOOD"!   Here's the gist of the cake: sweet juicy plum halves are nestled down in a cake batter with brown sugar, orange zest and lots of vanilla…..sound good? Oh trust me, it is!
As I was reading through the recipe I was sort of thinking to myself, "oooh, you know, I bet the actual cake part of this won't have a whole lot of flavor…hmmm, maybe I should add something to it…hmmm'". I thought long and hard about adding a little something extra to the cake batter to give it some oomph; but in the end I decided not to because well, um, its Dorie, and she's a freaking genius. Good thing I didn't – the cake part (minus the plums) could've stood on its own two feet as far as I'm concerned! The orange zest and vanilla added so much flavor – and it was super moist! Oh-so-yummy!! The plums on top only added to the deliciousness – they got all soft and juicy…mmm. I loved this cake, people – LOVED it. In fact, I think I'd go so far as to say this is my favorite TWD recipe so far!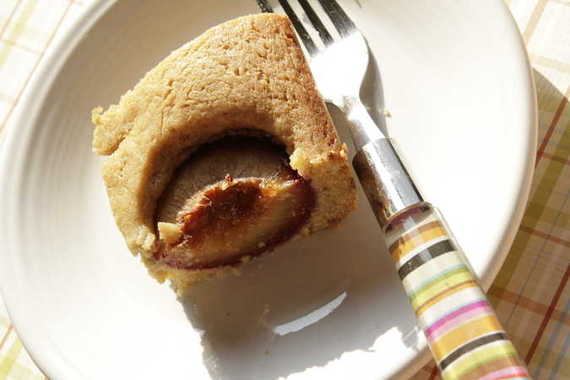 Its just too bad my pictures are so funky looking. All shadowy and weird. Promise you won't write my blog off because of the steady stream of bad pictures that are inevitably headed your way….just accept me in spite of my hideous photo-taking skills. Don't worry, they'll get better – I promise!