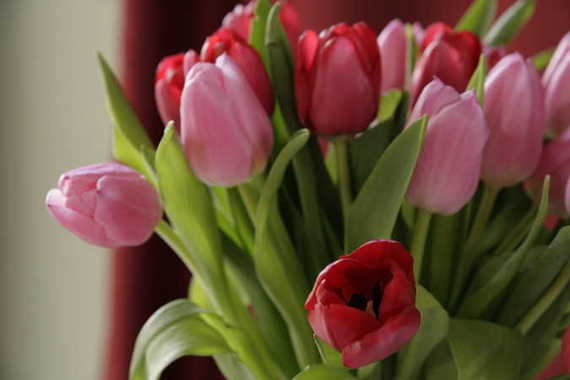 Well, I hope everybody had a really nice Valentine's Day! I know I did – hubby sent me these beautiful tulips (my favorite flower) and took me to the museum – it was a great day…except the part where hubby started choking on the cheese fondue that I screwed up in the first place thus scaring the crap out of me and really grossing me out to the point of not being able to finish my meal which made us both go into hysterics from laughing so much yet still kinda grossed out so we thought we'd just open the second bottle of champagne and try to forget everything….yeah, except for that. Good times. Note to self: next time you're making cheese fondue, try not to double the amount of cheese you're supposed to put in. Oops.
So anyway, let's move on to this cake – the Devil's Food White Out Cake, chosen by Stephanie of Confessions of a City Eater. This is the gorgeous black and white cake on the cover of Dorie's book, Baking From My Home To Yours. The cake itself was totally easy to make – it took no time. It sort of reminded me more of a brownie or the Chocolate-Chocolate Cupcakes we made back in October than a normal chocolate cake – it was definitely rich and chocolatey. The icing is what sort of scared me, though – it's a fluffy, marshmallowy icing, and it starts with a simple syrup that has to reach a specific temperature before being added to egg whites, which eventually all gets whipped up together. You have to use a candy thermometer. I don't have a candy thermometer and didn't really feel like buying one…so I used a meat thermometer and a prayer. Thank the good Lord (and my meat thermometer) it worked! I know – it's sort of a "back-woods" way of doing things ("you might be a redneck if…"), but hey, it worked didn't it? Don't judge.
Personally, I'm not a big fan of this icing -it's just a wee bit too sweet, if you ask me. Give me buttercream or cream cheese anyday! However, it still made for a very delicate, pretty cake – I enjoyed taking pictures of this. You're supposed to slice the two layers of cakes into four and crumble the fourth layer to top your cake with – but somehow my layers ended up pretty scrawny, so I just sliced a tiny bit off of one layer and made do with only a few crumbs.  So normally, this would be a tall, fluffy looking cake…..just use your imagination, hm?
I think this would be a perfect birthday cake for a kid – it's really chocolatey and way too sweet….that's what they like, right? That's what I liked, anyway.
If you want the recipe for this cake – head on over to Stephanie's blog. She's got lots of other great stuff on there, too!
Aaaaaaand, one more picture…..then I'll go. I swear.