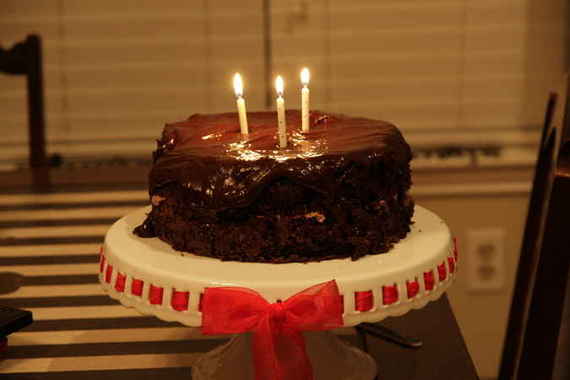 Ok, look, it was 8:30 last night, the sun had gone down hours ago, it was hubby's birthday and we wanted cake PRONTO. So,  yes, I took pictures in horrible lighting, yes, they look awful, yes, it looks like a doody cake….am I sorry? Not so much…..what the heck am I supposed to do when it gets dark so stinking early nowadays? I can't take pictures of a half-eaten birthday cake! Ahem, anywhoo, I'll stop ranting and continue with my birthday cake post…..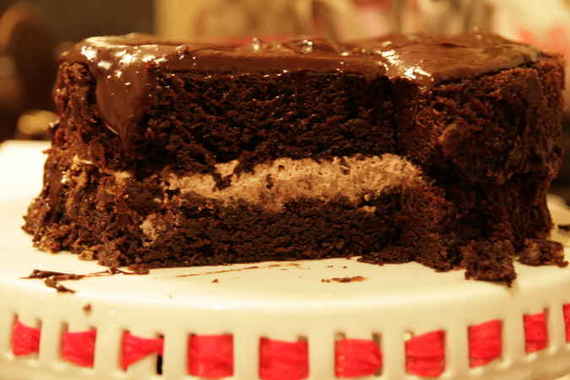 I'll admit that even if my lighting had been adequate, this cake still would've looked like something you use to fertilize your lawn, rather than serve to your husband on his birthday. I greased the heck out of my cake pans and this suckers STILL stuck! Plus, trying to frost a cake after a few too many glasses of wine, with your husband giggling in the background is never going to be an easy task. Luckily, taste is all that matters, right? RIGHT?! Ok fine, so appearance has a little something to do with it as well, but even though my cake looked terrible, it tasted reeeeeally good!! The cake layers were so moist – I don't think I've ever had a chocolate cake that was more moist than this one, honestly. I mean, almost brownie-like! Mmmmm…brownies.  Anyway, I chose to halve the recipe for the ganache frosting/filling and use a layer of chocolate mousse in the middle – it seemed like a pretty good idea to me, but after tasting it, I think next time I'll just stick to the recipe and use the ganache for the frosting and the filling. I think the mousse just made the cake too rich (yes, in my opinion there is such a thing!). This really is an awesome recipe, though – SO worth a try. And next time I'll do my best to A.) make it prettier and B.) take pictures in better lighting!
Double Chocolate Layer Cake
Gourmet, March 1999
For cake layers
3 ounces fine-quality semisweet chocolate such as Callebaut
1 1/2 cups hot brewed coffee
3 cups sugar
2 1/2 cups all-purpose flour
1 1/2 cups unsweetened cocoa powder (not Dutch process)
2 teaspoons baking soda
3/4 teaspoon baking powder
1 1/4 teaspoons salt
3 large eggs
3/4 cup vegetable oil
1 1/2 cups well-shaken buttermilk
3/4 teaspoon vanilla
For ganache frosting and filling
1 pound fine-quality semisweet chocolate such as Callebaut
1 cup heavy cream
2 tablespoons sugar
2 tablespoons light corn syrup
1/2 stick (1/4 cup) unsalted butter
Special equipment: two 10- by 2-inch round cake pans
Make cake layers:
Preheat oven to 300°F. and grease pans. Line bottoms with rounds of wax paper and grease paper.
Finely chop chocolate and in a bowl combine with hot coffee. Let mixture stand, stirring occasionally, until chocolate is melted and mixture is smooth.
Into a large bowl sift together sugar, flour, cocoa powder, baking soda, baking powder, and salt. In another large bowl with an electric mixer beat eggs until thickened slightly and lemon colored (about 3 minutes with a standing mixer or 5 minutes with a hand-held mixer). Slowly add oil, buttermilk, vanilla, and melted chocolate mixture to eggs, beating until combined well. Add sugar mixture and beat on medium speed until just combined well.
Divide batter between pans and bake in middle of oven until a tester inserted in center comes out clean, 1 hour to 1 hour and 10 minutes.
Cool layers completely in pans on racks. Run a thin knife around edges of pans and invert layers onto racks. Carefully remove wax paper and cool layers completely. Cake layers may be made 1 day ahead and kept, wrapped well in plastic wrap, at room temperature.
Make frosting:
Finely chop chocolate. In a 1 1/2- to 2-quart saucepan bring cream, sugar, and corn syrup to a boil over moderately low heat, whisking until sugar is dissolved. Remove pan from heat and add chocolate, whisking until chocolate is melted. Cut butter into pieces and add to frosting, whisking until smooth.
Transfer frosting to a bowl and cool, stirring occasionally, until spreadable.
Spread frosting between cake layers and over top and sides. Cake keeps, covered and chilled, 3 days. Bring cake to room temperature before serving.