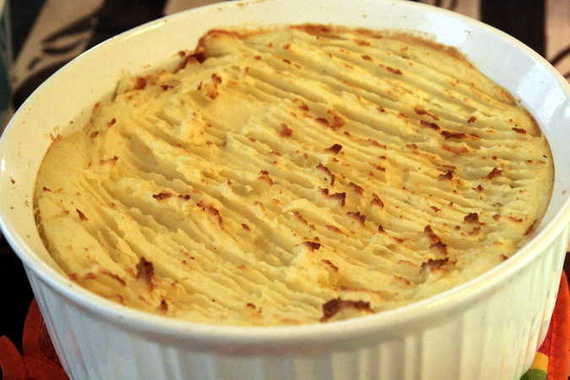 As you all know, yesterday was Saint Patrick's Day (did you wear your green???). This holiday doesn't really mean much to me (although it probably should, since I have a good chunk of Irish in me) and I don't normally do anything to celebrate it except for pinching my hubby for not wearing green…hehe. In fact, I didn't even have a single "Irish festivity" or dish planned for the occasion…until I saw this recipe for Shepherd's Pie on one of my absolute favorite food blogs, For the Love of Cooking (apparently a lot of people like to make this dish on St. Patrick's Day). Honestly, I've never really been "attracted" to shepherd's pie…it never really looked appetizing to me – until yesterday. This recipe and the great-looking pictures really made me think twice about whether or not I wanted to try it. Amazingly enough, I happened to have all the ingredients I needed for it and I thought, "oh.. what the heck!" and set out to make my first shepherd's pie.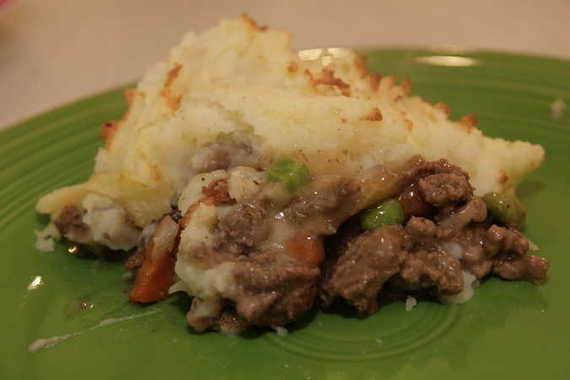 The verdict: it was really easy and absolutely SCRUMPTIOUS! Hubby and I both loved it. I think the milk, cheese, butter and sour cream in the mashed potato topping was what really made it extra special. This is one of our new favorites!
Shepherd's Pie
-For the Love of Cooking
Mashed Potato Topping:
5-6 large potatoes, peeled and cut into thirds
1/4 cup of milk
3 tbsp sour cream
2-3 tbsp Irish garlic and herb butter (or regular butter)
1/2 cup Irish extra sharp cheddar cheese, grated
Sea salt and fresh cracked pepper
Boil a large pot of water. Peel the potatoes and cut into thirds. Boil the potatoes for 10-12 minutes or until fork tender. Drain potatoes and place back into the pan. Add the milk, sour cream, butter, cheddar cheese, sea salt and freshly cracked black pepper then mash with a masher or blend with a mixer until creamy and smooth. Cover with a lid and set aside.

Meat Filling and Sauce:
1 tsp olive oil
1/2 sweet yellow onion, diced (I didn't have onion so I just used onion powder)
2 large carrots, diced
2 stalks of celery, diced
2 cloves of garlic, minced (I used garlic powder)
1 1/2 lbs of lean ground beef
1-2 tsp Worcestershire sauce (I doubled this)
1 cup frozen peas, thawed
Sea salt and freshly cracked black pepper, to taste
2 tbsp Irish garlic and herb butter (or regular butter)
2 tbsp flour
1 1/4 cup beef broth (I only had chicken broth, but it worked really well!)
While the potatoes are cooking, preheat the oven to 400 degrees. Heat the olive oil in a large skillet over medium heat. Add the onion, carrots and celery then cook until tender, about 4-5 minutes. Add the lean ground beef and cook thoroughly. Add the salt, pepper and Worcestershire sauce.
Once the beef is done cooking, mix the peas into the mixture until well combined. Pour the beef filling into a large baking dish and set aside. In the same skillet over medium heat, add the 2 tablespoons of butter and 2 tablespoons of flour. Mix thoroughly then slowly add the beef broth. Season with sea salt and pepper (I also added a few shakes of Worcestershire). Pour the sauce over the beef mixture and mix thoroughly. Top the beef and vegetable mixture with the mashed potatoes. Bake for 30 minutes. Let cool for a few minutes before serving. Enjoy.