Mother Nature threw me a curve ball last week. We had been enjoying our first days of perfect Spring weather here – I was working on lots of projects outside in the sun, taking our dog on lots of walks, eating dinner al fresco…it was great; then the next week – BAM! 40 degree weather, high winds, cold rain and dark skies. Bummer. You know what they say – "If you don't like the weather in Texas, just wait…" You can always count on Texas weather to be weird, wacky and ever-changing. So I just decided to make the best out of the situation and make a delicious, comforting tuna casserole for dinner (I love a hearty casserole when the weather is bad…makes you feel all warm and cozy). So as I was searching for recipes, it seemed like every single one went something like this: 1 can tuna, 1 can cream of mushroom soup, 1 package noodles. Sorry, but no thanks. I needed a serious casserole for some serious weather (Not that I have a problem with condensed soups…I use them in a few things!) So I googled "no soup tuna casserole" – and actually found a few good ones! Including this one: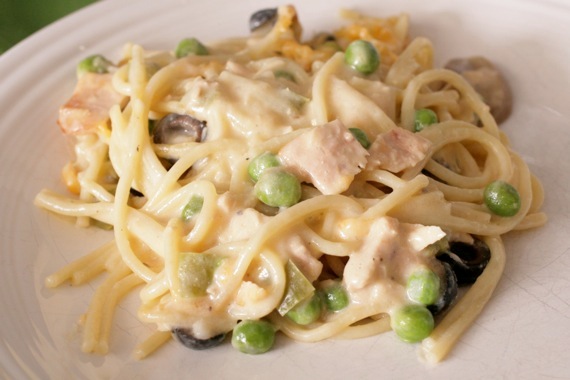 This was hands-down the best tuna casserole I've had yet! And hubby went nuts over it- he said, "I really appreciate a good tuna casserole, and this one is awesome!" That's all a girl needs to hear, in my opnion. This came together in no time and it keeps really well in the fridge if you have leftovers. I highly recommend this casserole – it's just perfect all around!
Tuna Casserole
8oz Spaghetti, broken into 4ths
1/2 an onion, diced
1 green pepper, diced
1 package (or 1 small can) mushrooms, diced
1/2 cup frozen peas
1 small can sliced black olives (optional)
3 oz butter
5 tbsp flour
1 1/2 cups chicken stock
1 cup milk
Handful chopped fresh parsley
1/2 cup shredded cheddar cheese
2 cans tuna, drained and flaked
Panko bread crumbs, sautéed in butter until beginning to brown
Preheat oven to 400°F.
Cook spaghetti as directed on package.  Drain and rinse with cold water.  Set aside.
Melt butter in a large saucepan and add onions and pepper.  Sauté for a few minutes until beginning to soften.  Add mushrooms, peas and olives.  Sauté for another minute or two.  Add in flour and cook for a further two minutes.  Slowly stir in the stock, then the milk.  Bring up to a boil until thickened, then remove from heat.  Stir in parsley, tuna and cheese. Season with salt and pepper.
Add spaghetti to the pot and stir to coat.
Place in buttered casserole dish and sprinkle the breadcrumbs on top.
Bake for ten to fifteen minutes until top is golden.
*Alternately, you can skip the bread crumbs on top and just top with additional cheddar cheese, which I like to do often.
Recipe source: adapted from Tast.ie