I guess you could eat barbecued chicken in the Fall or Winter, but I personally don't want to. I want it in the summertime. I like to sit outside in a shady spot, eating barbecued chicken legs, deviled eggs and baked beans; getting sauce all over my face and under my fingernails. Oh yeah…that's good.  Last week, I decided I'd gone long enough without trying a homemade barbecue sauce. And I thought Ina Garten's was the best place to start.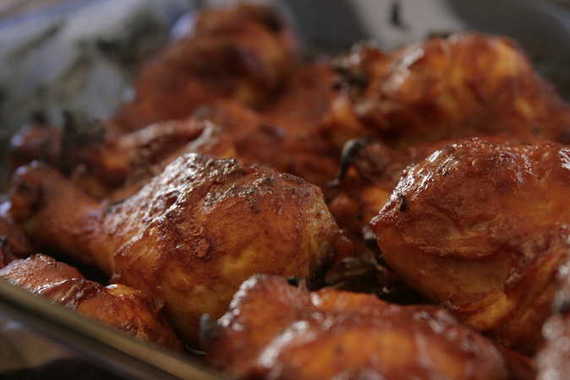 It was surprisingly really easy to make! It was delicious, but I think next time, I'll add a little less mustard, as this was a little too "mustardy" for me. I loved that it used hoisin sauce, though – that really gave it a great flavor. Hubby and I both really enjoyed this. And the great thing is, I have tons of sauce left over, so I'll be using it for weeks and weeks!
Barbecue Sauce
The Barefoot Contessa
1 1/2 cups chopped yellow onion (1 large onion)
1 tablespoon minced garlic (3 cloves) (I only used 1 large clove)
1/2 cup vegetable oil
1 cup tomato paste (10 ounces)
1 cup cider vinegar
1 cup honey
1/2 cup Worcestershire sauce
1 cup Dijon mustard
1/2 cup soy sauce
1 cup hoisin sauce
2 tablespoons chili powder
1 tablespoon ground cumin
1/2 tablespoon crushed red pepper flakes
*I also added a few dashes of liquid smoke, 1/2 cup of brown sugar and lots of black pepper
In a large saucepan on low heat, saute the onions and garlic with the vegetable oil for 10 to 15 minutes, until the onions are translucent but not browned. Add the tomato paste, vinegar, honey, Worcestershire sauce, mustard, soy sauce, hoisin sauce, chili powder, cumin, and red pepper flakes. Simmer uncovered on low heat for 30 minutes. Use immediately or store in the refrigerator.
I marinated the chicken in some of the barbecue sauce for 3 hours, then baked it in a 400 degree oven, covered with foil for about 40 minutes; I took the foil off, brushed on some more sauce, then baked uncovered, for about 10 or 15 minutes more. This goes great with some baked beans and deviled eggs (posted below). Enjoy your weekend!!