To me, one of the best things about the Christmas season is baking cookies…lots of them! These are slowly becoming my favorite Christmas cookie – you can make them in a flash and everybody always seems to love them. What cookie am I talking about? Why, Monster Cookies, of course!
Oatmeal, peanut butter, holiday M&M's….these cookies are chock full of goodies! Normally I don't really like peanut butter-y desserts, but I made these last year for the first time and fell in love! They're chewy, not-too-sweet, and have a little crunch, thanks to the M&M's. I made a huge batch of these the other night for a party (yeah, the same party that I made the buttery jam cookies for) and they were definitely everyone's favorite – especially my good buddy Susan – she loves her some cookies!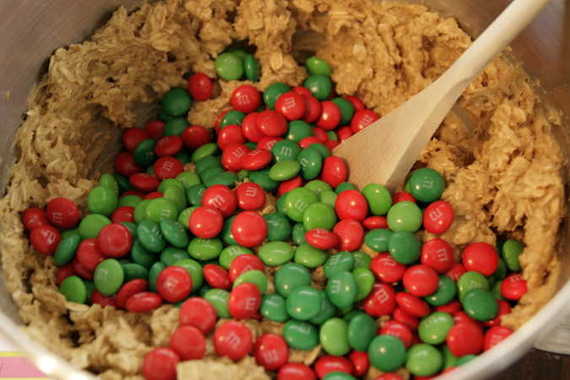 These are flourless, which I always thought was kind of weird, but it really works out – I'm tellin' ya, these are awesome cookies! Probably a great cookie to make with your kids…if you have any….I definitely don't have any…..not really a "kid" person….there's a bird that sleeps on our front porch every night….that's about as close to having kids as I get…..I doubt the bird would want to make monster cookies with me, though………….um, right…well anyway – if you've got some peanut butter, oats and chocolate chips or M&M's lying around in your pantry, you can definitely make these cookies TODAY! Do it!
Monster Cookies
-slightly adapted from allrecipes.com
6 eggs
2 1/3 cups packed brown sugar
2 cups white sugar
1/2 tablespoon vanilla extract
4 teaspoons baking soda
1 cup butter
2 2/3 cups peanut butter
9 cups rolled oats
2 cups M&M's candy (I use the holiday kind)
Preheat oven to 350 degrees F (175 degrees C). Lightly grease cookie sheets or line with parchment paper. Cream butter and peanut butter together. Add the sugars and stir until well mixed. Add eggs one at a time, then add vanilla. Mix oatmeal and baking soda separately, then stir into batter. Add M&M's last. Drop by heaping teaspoons onto cookie sheets. Bake for 12-15 minutes.
*NOTE: the above recipe makes about 10 gazillion cookies…I was smart and cut the recipe in half and still got about 3 dozen or more