First, let me clarify – before I got married, the extent of my baking (besides helping my mom in the kitchen every now and then) was break and bake cookies or a boxed cake mix of some sort. In college, I baked a few things from time to time for Tyler and Seth, the boys who lived across the way from my roommate and me; but really, when it came to "real" baking – not using boxed mixes or slice-n-bake cookies- I didn't do much of it at all! Then I started dating my hubby and somehow, my affections came out through baking…who ever saw that coming! I would send him boxes of cookies in the mail (he was at one college, and I was at another) and bake him special cakes when he'd come to visit for the weekend. So now, after two years of marriage, somehow my baking abilities have gone from store bought cookie dough to making up my own kinds of cookie recipes, homemade frostings, ganache, and all kinds of other things! Yay me! I totally found my niche…baking is what I love doing now (besides opera) and I'm getting better and better everyday! (I still have a LONG way to go, however!)
So since I've started this food blog, my friends and family have started seeing me as more of a serious cook/baker. They ask for recipes and call with cooking questions, which is amazingly flattering; and most recently, my mother-in-law asked if I would make cookies for her work Christmas party! How exciting! Can I call myself a professional caterer now?? No? Ok fine….worth a try….
She said I could make any kinds I wanted, but the only request she had was for me to make the oatmeal with golden raisins, pecans and coconut that I had made for them recently. No problem! So…without further ado, here are the heaps and mounds of cookies I made yesterday!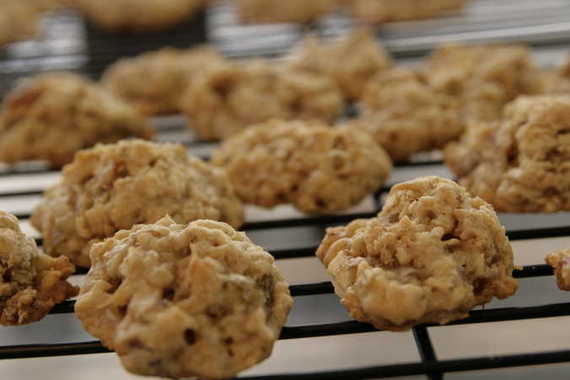 First up, Jan's favorite. Essentially, an oatmeal raisin cookie, jazzed up a bit…Amy style! (I'm also sending these particular cookies into Joelen's Holiday Cookie Swap blogging event, by the way!)
Oatmeal with Golden Raisins, Coconut and Pecans
1 1/2 cups old-fashioned oats
1 cup all-purpose flour
1/2 teaspoon baking soda
1/2 teaspoon baking powder
1/2 teaspoon salt
1/2 cup (one stick) plus 3 tablespoons unsalted butter, at room temp.
1/2 cup packed brown sugar
1/2 cup granulated sugar
1 large egg
1 tablespoon half and half
1 teaspoon vanilla extract
1 teaspoon pumpkin pie spice
1 cup coarsely chopped pecans
1/2 – 1 cup (however much you want, really) shredded sweetened coconut
1 cup golden raisins
Preheat oven to 350 degrees. Combine oats, flour, baking soda, baking powder, salt and pumpkin pie spice in a bowl. Set aside. In a separate bowl, cream both sugars and butter until light and fluffy and smooth. Add egg, half and half and vanilla and blend until smooth. Stir in the oat mixture, walnuts, raisins and coconut. Drop dough onto a cookie sheet lined with parchment paper in rounded spoonfuls (or you can use a cookie scoop) about 2 inches apart. Bake for about 13 -15 minutes or until edges of cookies are golden brown. Transfer to a wire rack for cooling.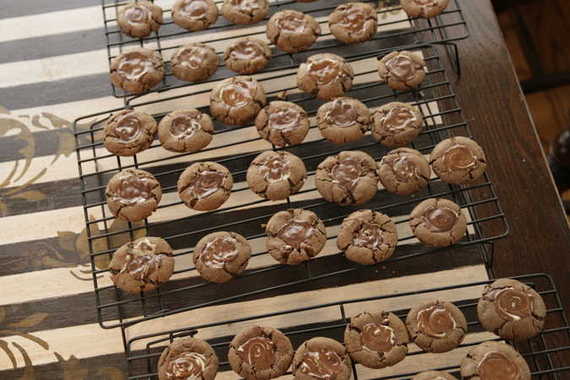 Second: the chocolate mint cookies (which I have appropriately re-named, "Chocolate Mint Puddles"). A full recipe makes about a TON of these cookies…but they're so amazingly good!! My favorite Christmas cookie, as a matter of fact! How can you go wrong with chocolate and Andes mints??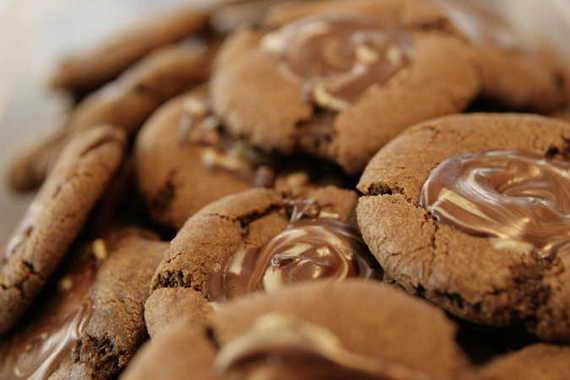 Chocolate Mint Puddles
-allrecipes.com
3/4 cup butter
1 1/2 cups brown sugar
2 tablespoons water
2 cups semisweet chocolate chips
2 eggs
2 1/2 cups all-purpose flour
1 1/4 teaspoons baking soda
1/2 teaspoon salt
3 (4.5 ounce) packages chocolate covered thin mints (Andes mints)
In a saucepan over medium heat, cook the sugar, butter and water, stirring occasionally until melted. Remove from heat, stir in the chocolate chips until melted and set aside to cool for 10 minutes. Pour the chocolate mixture into a large bowl, and beat in the eggs, one at a time. Combine the flour, baking soda and salt, stir into the chocolate mixture. Cover and refrigerate dough for at least 1 hour.
Preheat oven to 350 degrees F. Grease cookie sheets. Roll cookie dough into walnut sized balls and place 2 inches apart onto the prepared cookie sheets.
Bake for 8 to 10 minutes in the preheated oven, be careful not to overbake. When cookies come out of the oven, Press one mint wafer into the top of each cookie and let sit for 1 minute. When the mint is softened, swirl with the back of a spoon or toothpick to make a pattern with the green filling of the mint wafer. For smaller cookies, break mints in half.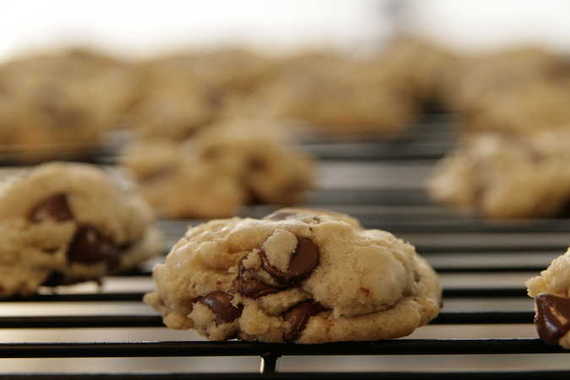 Third on the list, my absolute favorite chocolate chip cookie – the "BFCCC" (big, fat, chocolate chip cookies…I think chewy is supposed to go in there somewhere, too…). I made these not long after hubby and I were married and they became an instant hit with my entire family!
And in the haste of my cookie-making….this happened: A prime example of what NOT to do when you're making cookies for your mother-in-law: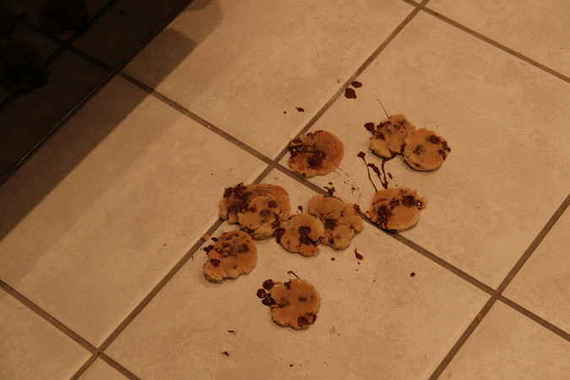 UGH. Just don't ask…..its the spatula's fault! That's all I'm going to say about it!
Big, Fat, Chocolate Chip Cookies (the BEST!)
-allrecipes.com
2 cups all-purpose flour
1/2 teaspoon baking soda
1/2 teaspoon salt
1 cup unsalted butter, melted
1 cup packed brown sugar
1/2 cup white sugar
1 tablespoon vanilla extract
1 egg
1 egg yolk
1 cup semisweet chocolate chips (I use almost an entire package of chips…)
Preheat the oven to 325 degrees F. Sift together the flour, baking soda and salt; set aside.
In a medium bowl, cream together the melted butter, brown sugar and white sugar until well blended. Beat in the vanilla, egg, and egg yolk until light and creamy. Mix in the sifted ingredients until just blended. Stir in the chocolate chips by hand using a wooden spoon.
Drop cookie dough 1/4 cup at a time onto the prepared cookie sheets. Cookies should be about 3 inches apart.
Bake for 15 to 17 minutes in the preheated oven, or until the edges are lightly toasted (If you're making smaller cookies like mine, bake them for about 12 minutes). Cool on baking sheets for a few minutes before transferring to wire racks to cool completely.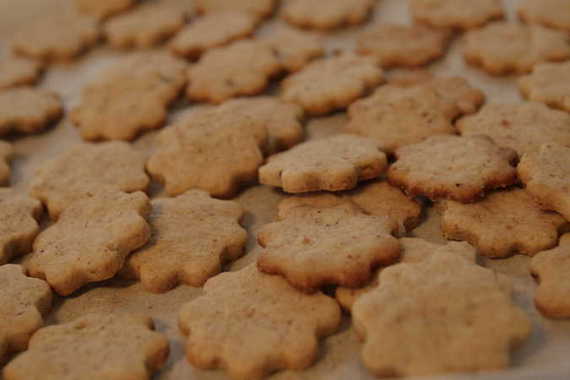 And last but not least, last week's Tuesdays with Dorie cookie – the Linzer Sable (except that I didn't make them into sandwich cookies, so I guess they're just Sables…)
Linzer Sables
-Dorie Greenspan
1 1/2 cups finely ground almonds, hazelnuts or walnuts
1 1/2 cups all-purpose flour
1 1/2 teaspoons ground cinnamon
1/4 teaspoon salt
Scant 1/4 teaspoon ground cloves
1 large egg
2 teaspoons water
1 stick (8 tablespoons) unsalted butter, at room temperature
1/2 cup sugar
Whisk together the ground nuts, flour, cinnamon, salt and cloves. Using a fork, stir the egg and water together in a small bowl.
Working with a stand mixer, preferably fitted with a paddle attachment, or with a hand mixer in a large bowl, beat the butter and sugar together at medium speed until smooth, about 3 minutes, scraping down the bowl as needed. Add the egg mixture and beat for 1 minute more. Reduce the speed to low and add the dry ingredients, mixing only until they disappear into the dough. Don't work the dough much once the flour is incorporated. If the dough comes together but some dry crumbs remain in the bottom of the bowl, stop the mixer and finish blending the ingredients with a rubber spatula or your hands.
Divide the dough in half. Working ,,~th one half at a time, put the dough between two large sheets of wax paper or plastic wrap. Using your hands, flatten the dough into a disk, then grab a rolling pin and roll out the dough, turning it over frequently so that the paper doesn't cut into it, until it is about 1/4 inch thick. Leave the dough in the paper and repeat with the second piece of dough. Transfer the wrapped dough to a baking sheet or cutting board (to keep it flat) and refrigerate or freeze it until it is very firm, about 2 hours in the refrigerator or about 45 minutes in the freezer. The rolled-out dough can be wrapped airtight and stored in the refrigerator for up to 3 days or in the freezer for up to 2 months. Just thaw the dough enough to cut out the cookies and go on from there.
Getting ready to bake: Center a rack in the oven and preheat the oven to 375 degrees F. Line two baking sheets with parchment or silicone mats.
Peel off the top sheet of wax paper from one piece of dough and, using a 2-inch round cookie cutter-a scalloped cutter is nice for these-cut out as many cookies as you can.  Transfer the rounds to the baking sheets, leaving a little space between the cookies. Set the scraps aside-you can combine them with the scraps from the second disk and roll and cut more cookies.
Bake the cookies one sheet at a time for 11 to 13 minutes, or until the cookies are lightly golden, dry and just firm to the touch. Transfer the cookies to a rack to cool to room temperature.
Repeat with the second disk of dough, making sure to cool the baking sheets between batches. Gather the scraps of dough together, press them into a disk, roll them between sheets of wax paper or plastic wrap and refrigerate until firm, then cut and bake.
So there you have it – the plethora of cookies (12 batches in all) I've been busy making. This has really been a lot of fun, though… I couldn't justify making all these different kinds of cookies for just hubby and me – so this gave me an excuse to get in the kitchen and bake my little heart out! 🙂 Happy baking and Merry Christmas!!