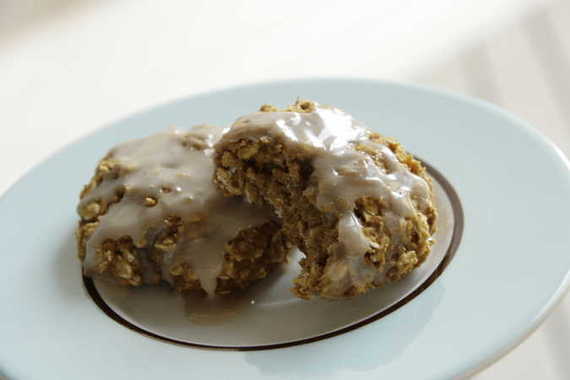 Wow, that title is a mouthful! After a week or two (or three…ugh!) of eating really, terribly unhealthy (but mucho-yummy!) fast food (think Taco Bell, pizza, burgers…) because we've been working so hard on the house, hubby and I are trying really hard to eat healthier. I like to look through Weight Watcher recipes and get ideas (not too many because I mean, come on, its low-fat stuff…eww) and I was really excited when I came across these cookies on Erin's blog.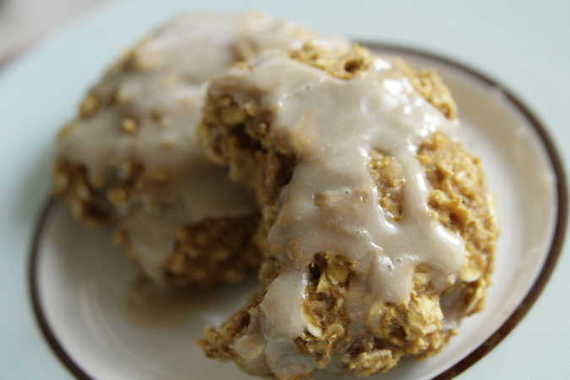 These are nice when you need something sweet but don't want to eat 300 calories worth in one cookie – I think they're around 100 each, or maybe less. I did decide to jazz them up a little bit, though, with a maple glaze just for a little extra something. I just love the combination of pumpkin and maple! Mmmm!!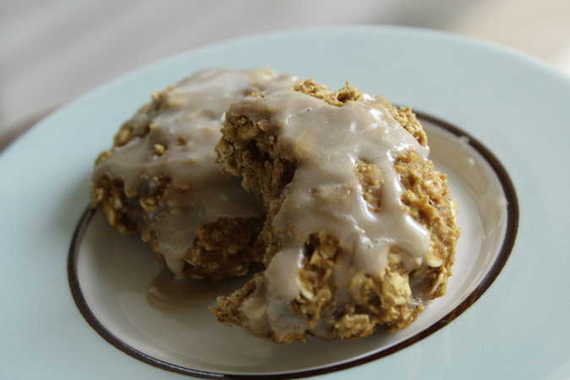 Low-fat Maple Glazed Pumpkin Oatmeal Cookies
1 c. pumpkin
2 egg whites, whipped
1 c. brown sugar, packed
1 1/2 c. all-purpose flour (I used 1 cup AP and 1/2 cup whole wheat)
1 tsp. baking soda
1 tsp. cinnamon
1/2 tsp. nutmeg
1/2 tsp. cloves
3 c. rolled oats
1 c. raisins (I omitted)
1 c. powdered sugar
1 or 2 drops maple extract
splash of milk (I didn't measure, I just splashed some in with the powdered sugar)
DIRECTIONS:
Spray baking sheet with cooking spray. In a large bowl combine pumpkin and egg whites. In a separate bowl combine sugar, flour, baking soda, cinnamon, nutmeg, cloves, oats, and raisins (batter will be very dry at first). Mix ingredients together just until moistened.
Drop cookies by tablespoonfuls onto a prepared baking sheet, 2″ apart. You can leave the cookies in the shape of a ball (the baked cookie will still be a ball) or flatten them out with the bottom of a glass before baking. Bake at 350 degrees for 15 minutes.
For Glaze: mix the powdered sugar, milk and maple extract in a small bowl, then drizzle over cooled cookies.