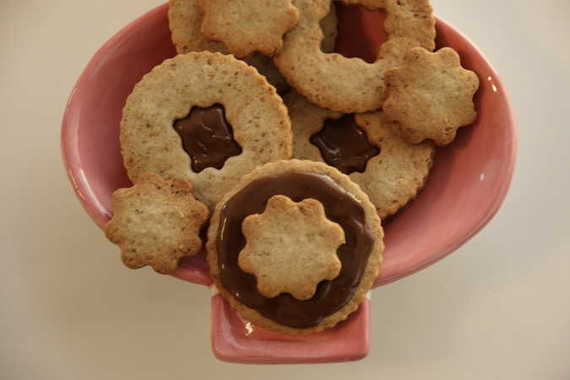 How exciting!! I am so giddy about being a member of TWD during the Christmas season!! And not only that, but to actually have a food blog during all this wonderful holiday baking (Sing For Your Supper is only 8 months old, so holiday blogging is a new experience for me!)! I love baking Christmas cookies – like every cook/baker, my love for holiday baking started when my sister and I were kids and my mom would let us help her make all kinds of Christmas cookies. One particular kind I can remember making the most were called Santa's Whiskers- sugar cookies that had a rim of coconut and maybe a few other things, I can't quite remember. I actually never ate those cookies – I didn't like them (it's a coconut thing), but really enjoyed making them with my mom. So, naturally, I was super excited to see all the cookies chosen for TWD's December line-up! Linzer Sables, Sugar Cookies, Buttery Jam Cookies….all kinds of fun stuff, and perfect for the holidays!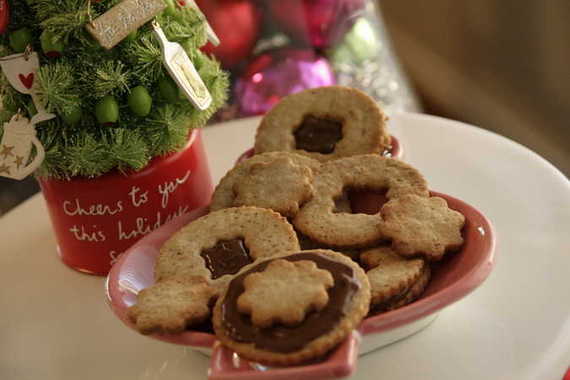 This week's recipe was Linzer Sables, chosen by Noskos of Living the Life. Crisp, buttery cookies cut into cute shapes and filled with jam (or in my case, Nutella…genius!). These were great…I actually misread the recipe, as I so often do, and added 1 1/4 teaspoons of salt instead of 1/4 teaspoon (JEEZ, Amy!!), but they were still really good – you didn't even notice the extra bit of salt! The Nutella was DELICIOUS all smushed up between these little cookies….sheer bliss!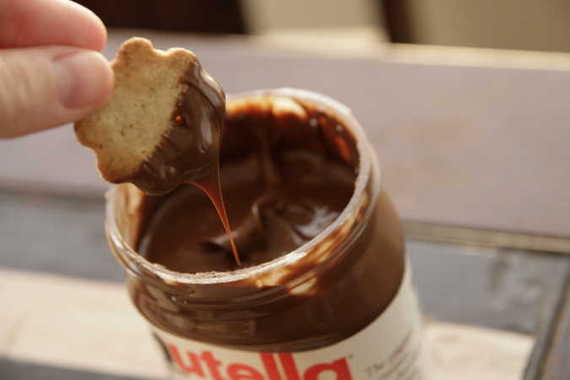 A little tip: these cookies are perfect with some steaming hot chocolate on a cold night….especially after you've just been out in the cold all night trying to hang Christmas lights on the dang house. Just a suggestion.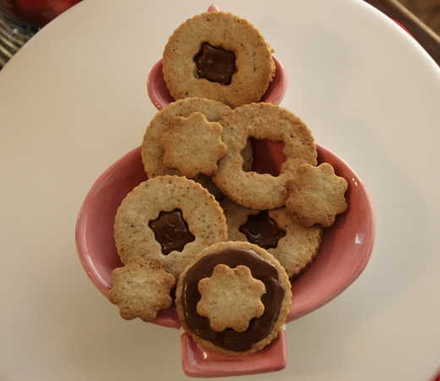 Go check out Noskos' blog if you would like Dorie's recipe for Linzer Sables…..these are perfect for your next Christmas party!