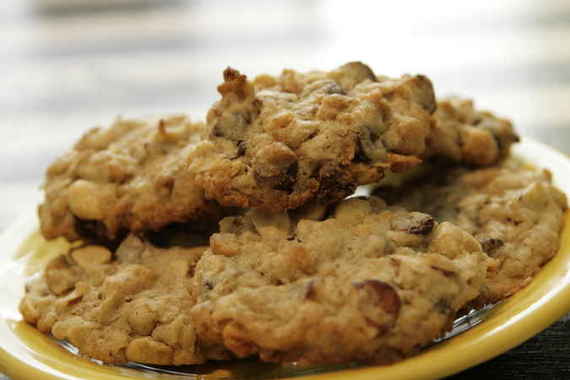 Well, let me just start off by saying- I'm thrilled. Really. Not only do I absolutely adore baking cookies, eating cookies, decorating cookies, giving cookies and everything possible to do with cookies, but I'm finally getting to bake cookies for Tuesdays with Dorie! This is the first real "cookie" recipe chosen (well, unless you count the very first TWD recipe, which was Shortbread…I guess you might count that, but I choose not to)!!! Groundbreaking!! Spectacular!! And what a doozy of a pick – Granola Grabbers, chosen by Michelle of Bad Girl Baking!! Honestly, I wasn't expecting much….I mean, how good can they be? Granola…eh. Nuts…eh. Coconut…eh. Raisins…YUCK. You can see my attitude toward these cookies was less than positive…..at first!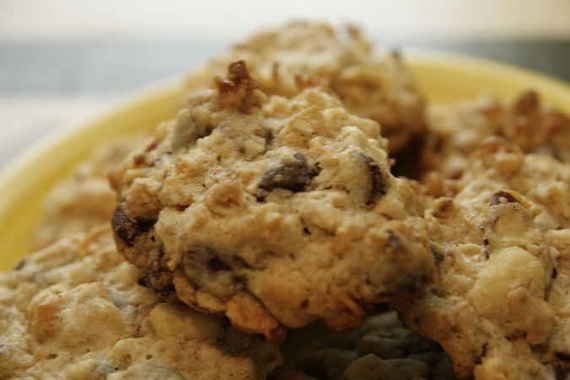 I decided to give these cookies a shot – of course I substituted chocolate chips for the raisins, duh! And they were delicious….hubby loved them!! The granola I used had a touch of cinnamon that went perfectly with the chocolate chips and peanuts! Incidentally, I did NOT send these cookies to work with hubby the next day…nope, these babies stayed safe at home with mama this time! In case you're curious as to what's in these, I'll give you the gist: granola, chocolate chips, wheat germ (my first time using this – surprisingly a pleasant addition!), coconut, salted peanuts and almonds – really tasty combo, really. I was lucky enough to have my very good, long-time friend, Susan stop by for a visit the day I made these and she was kind enough to sample them and give her opinion. Her response was, "Mm, these are good! Good call leaving out the raisins..really good call." Coming from Susan, I was thrilled.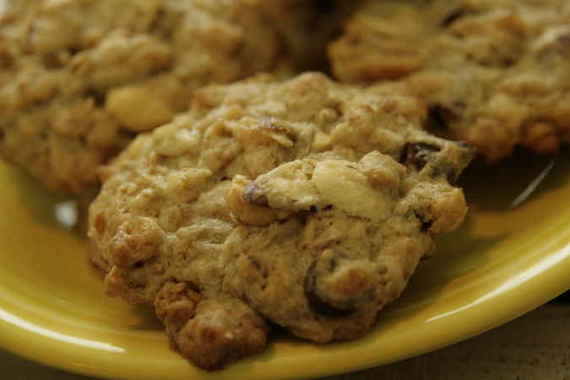 This is a fantastic cookie recipe, really! Do me a favor and head on over to Michelle's blog and get the recipe. You won't be sorry – your kids/grandkids/parents/best friends/neighbors/boyfriends/girlfriends/whoever will be oh-so-glad you did!! Thanks Michelle, you bag girl baking, you!