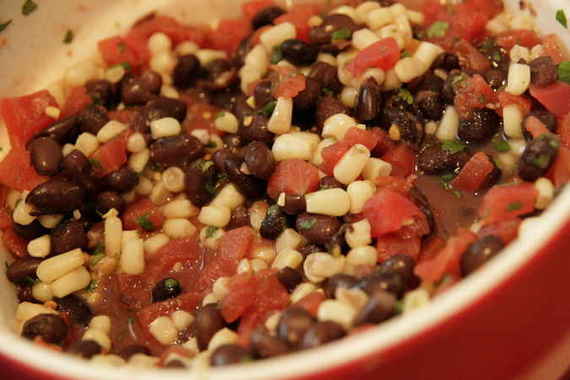 A few years ago (before I was married, still in college, and living at home with my parents), we lived in a house next door to our really good friends, Chris and Scott (and their two boys). Its so nice to live next door to your friends – you can just walk right over and hang out whenever you want (and they have a really nice pool, so they probably saw more of us than they cared to!). Anyway, Chris is a really good cook – one of those kinds of people who can just throw something together with a few random pantry items and create a fantastic dish (I wish I were one of those kinds of people. But hey, I'm not bitter…..stinking clever people with their stinking pantry items……), which is how this tasty dip came to be. I don't remember the specifics, but here's gist of the story – (sorry, Chris, if I totally botch this up….) apparently, Chris found out she needed to entertain some last minute guests (probably my parents) and needed to serve a little something to "nibble on". She searched the fridge and pantry for anything she could throw together and came up with a refreshing, delicious black bean and corn concoction she dubbed, "On Demand Dip". Well, needless to say, it was a huge hit at her little get-together, and now me, my mom and my sister serve it at most of our get-togethers! I've taken it to one of Joel's family shindigs and it was a big hit! You'll definitely want to serve this at your next party – its a perfect alternative to regular bean dips or cheese balls! Perfect for summer! Oh! – and it gets better the longer it sits in the fridge!
On Demand Dip
– by Chris
If I've somehow changed it up from the original recipe – sorry, Chris!
A lot of these ingredients are just thrown in there according to how much you like, so just taste is as you go a long and add as needed!
1 regular size can black beans, drained and rinsed
1 regular size can Rotel tomatoes, with their juice
1 regular size can white shoepeg Corn, drained
a handful of chopped fresh cilantro (as much or as little as you want – we like a lot!)
Juice of 1-2 limes (Or more if you want – this is what gives it most of the flavor)
Salt, pepper and garlic powder to taste
Mix all ingredients in a medium-sized bowl and refrigerate for at least an hour (Like I said, it gets better the longer it sits). Serve with tortilla chips (Tostito's "Scoops" are best, in my opinion!)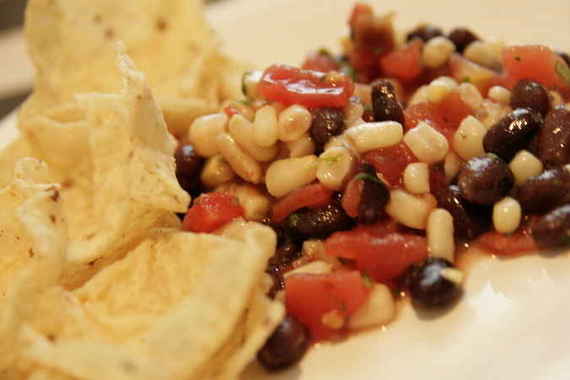 MMMMMM!! Thanks, Chris!