Well, this has been one crazy week. We are opening Carmen Saturday night and the rehearsals have been nuts lately! BUT- it's going to be one fantastic show…this is by far the best opera I've ever been in- I've enjoyed it the most, too (regardless of the hard work). For those of you who don't know the story of Carmen, here is a little background.
It's definitely been a long couple of days. We started dress rehearsals Tuesday and I have three costume changes – one of which is a big, black, velvet Spanish lady costume with a ginormous Mantilla on my head that feels like it weighs about 50 pounds. It's hotter than hades up on stage, too, which doesn't help matters. My wig looks like something that came out of grandma's attic and there's a fall that attaches to the back, making it look like I have a jerry curl mullet. I have to smoke a fake cigarette, which I'm sure looks incredibly awkward since I've never smoked a day in my life and really have no idea how to hold it and look semi-natural.  BUT – it's all worth it to be a part of this amazing show – the music is fun to sing, the lady who plays Carmen is fantastic – you can't take your eyes off of her! – and there's an overall sense of pride being a part of something so magnificent.
Anyway, in honor of this weekend's big premier, I thought a little Sangria might be fitting. I *love* sangria. Love, love, love it! I made this recipe the other night with quesadillas and black bean salad- so refreshing and delicious! Now that summer is on its way, I have a feeling there will be lots of pitchers of sangria!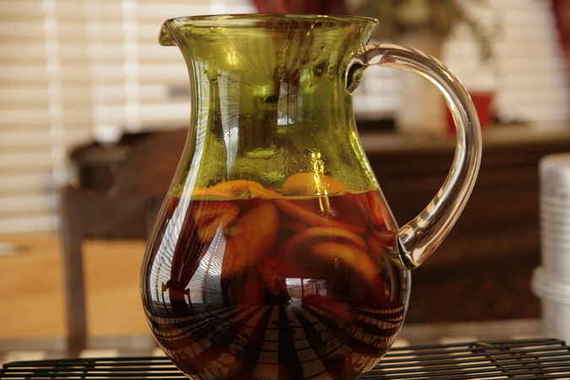 This recipe is pretty straight forward – I didn't use the traditional shot or two of brandy, but it was still pretty tasty!
Red Wine Sangria
One bottle of your favorite red wine (I used Menage a trois)
2 or 3 cups Ginger Ale (however much you want, really- I didn't measure, I just poured some in!)
2 blood oranges, sliced
2 lemons, sliced
A handful of sliced strawberries (again – however much you like)
One package frozen peaches, thawed, with their juice
Mix everything together in a large pitcher and chill until ready to serve. *If you want to be really cute and clever, you can freeze some grapes to use as ice cubes.
Everybody wish me luck for Saturday! Here's hoping I don't fall on my face, drop my fake cigarette, or my jerry curl mullet partially fall off and dangle to one side (again….). Enjoy your weekend!