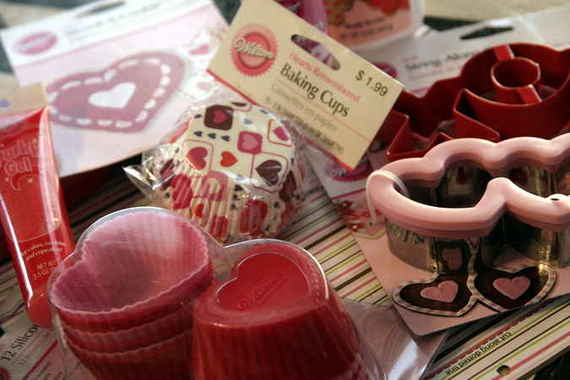 Yep – that's right. I won all that great stuff! My fellow food blogger Jamie, of My Baking Addiction was hosting a Valentine's themed baking giveaway on her blog and I was lucky enough to WIN!! All this stuff comes from an awesome online baking store and bakery called The Baker's Nook. They have tons of great stuff – everything a baker could possibly ever need! Among some of my goodies were tons of cookie cutters, Wilton cookie icing and sparkle gel, cupcake liners, cookie stencils, sprinkles and oh so much more! THANKS, JAMIE!! Needless to say, I've had a fantabulous time playing with all the free goodies I got – here is just one sample of some of the awesome cookies I made: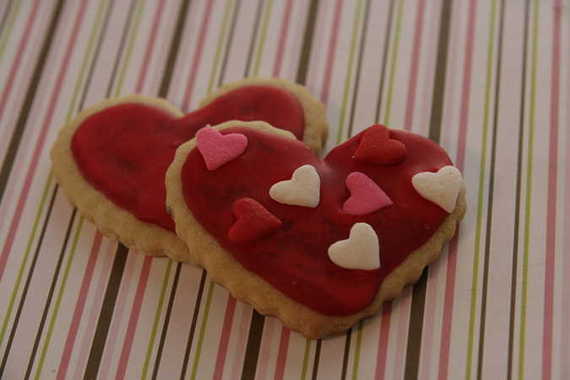 This recipe for sugar cookies comes from my Great-grandmother, Baba, who passed it down to my grandmother, Nana, who passed it down to my own mommy, who passed it down to me and my sister. I love recipes like that – the ones that are good enough to hold up through the years and be passed down from generation to generation. It's not a secret recipe or anything – in fact, its from the very first cookbook that Baba ever bought (when she was a young bride!). Here it is for those of you who are looking for a no-frills plain and simple sugar cookie (they're actually called Refrigerator Cookies because you keep the dough in the fridge and just pull it out whenever you want cookies).

Baba's Refrigerator Sugar Cookies
-The American Woman's Cookbook
(* this makes a TON of dough, so you might want to do like I did and halve the recipe. You'll still have enough for about 2 dozen cookies!)
6 cups flour
4 teaspoons baking powder
1/2 teaspoon salt
1 1/2 cups shortening (I used a mixture of butter and shortening)
3 cups brown sugar
2 eggs, well beaten
2 teaspoons vanilla
Sift flour, baking powder and salt together. Cream shortening and sugar until fluffy. Add eggs and flavoring and mix well. Add dry ingredients. Divide dough into portions and form into logs. Chill. Take out when needed and slice very thin and bake at 375 degrees for 10 to 12 minutes.
*Or you could do like I did and roll the dough out and cut out shapes. Either way, the dough needs to be chilled first.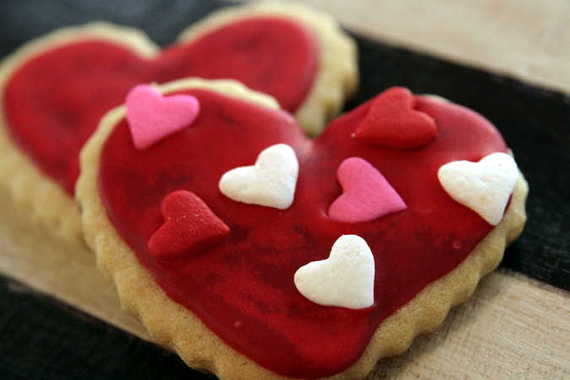 For those of you who haven't seen Jamie's blog – I suggest you head over there immediately! I get some of my best baking recipes from her – she's fabulous! Happy Valentine's Day!!!