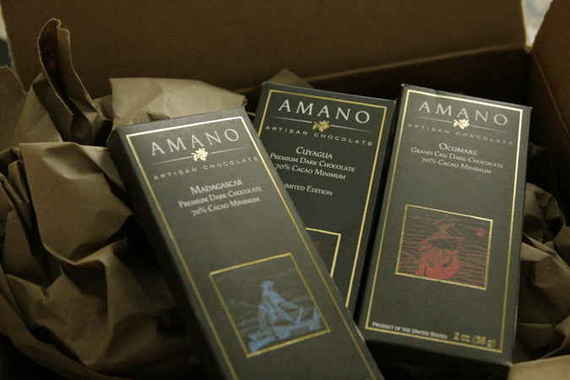 Thank you, Blake!! I was one of  98 (or 99 – I can't remember) lucky food bloggers to win three bars of Amano Chocolate from www.blakemakes.com. This stuff is amazing – nice and dark, with a slight fruity taste….it was hard for me not to just sit down and eat all three bars right then. However, I knew I wanted to use it to make something that would really show off the flavor of the chocolate, so I limited myself (with some difficulty) to sampling just one tiny square from each bar.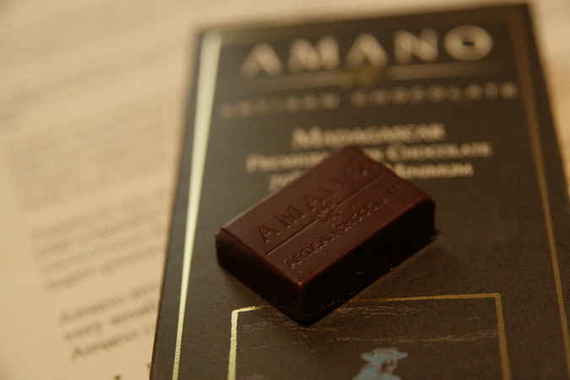 I knew I had to come up with something good for this chocolate – originally I had planned on chocolate pudding, but one night as I was perusing my favorite food blog, Joy the Baker, I saw a her recipe for hot fudge (Lord almighty, this looked good!) atop Dorie Greenspan's blueberry sour cream ice cream, and I knew exactly what I wanted to do with my Amano chocolate.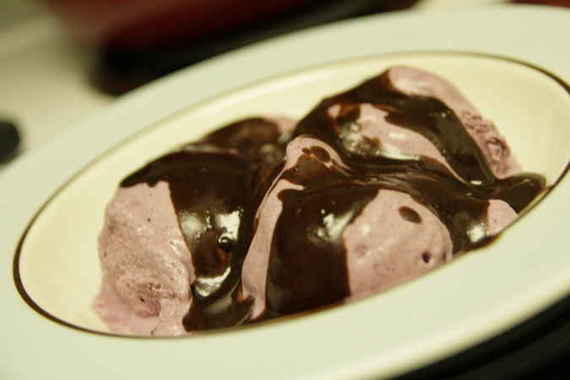 Now,  you will have to excuse the wretched picture – as soon as my chocolate sauce was finished I decided I couldn't wait for my ice cream to harden completely, soooo, the ice cream was more like soft-serve, thus, the horrible, "melty mess" of a picture. (I'm not sorry – it was delicious, and I'd do it again, given the chance!)
Dark Chocolate Hot Fudge
– Joy the Baker
1/4 cup unsweetened Dutch-processed cocoa powder
1/3 cup packed dark brown sugar
1/2 cup light corn syrup
2/3 cup heavy cream
1/4 teaspoon salt
6 ounces good bittersweet chocolate (not unsweetened), finely chopped (such as Amano! Mmmmm!)
2 Tablespoon unsalted butter, cup into 1/2 Tablespoons
1 teaspoon vanilla extract
Stir together cocoa powder, brown sugar, corn syrup, cream, salt and half of the chopped chocolate in a 2-quart heavy saucepan and cook over moderate heat, stirring, until chocolate is melted.  Cook mixture at a low boil, stirring occasionally, for 5 minutes.
I decided not to post the blueberry ice cream recipe, but if you would like to have it, go here. And if you wanna know more about Amano Chocolate (and trust me, you do), go here.