No, I don't mean "Greek Week" as in all that sorority/fraternity college stuff – I mean it literally. A couple of weeks back, it really was a pretty "Greek" week – I cooked lots of Greek-style food and also received a bunch of Greek yogurt from Stoneyfield to use however I wanted. Fun! I'll start with the meal: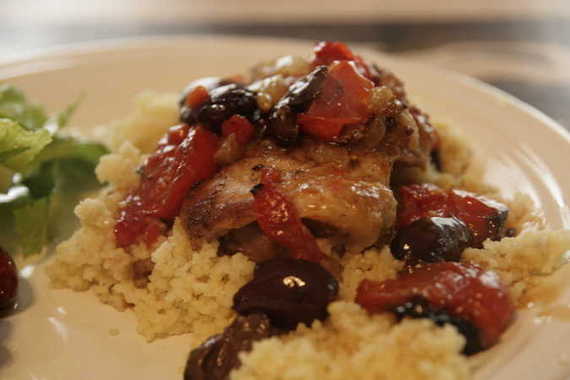 I really love Greek food – really really love it. Only thing is, I never really make it. Finally, I saw a couple of great-looking recipes on my favorite food blog, For The Love of Cooking. She had a recipe for Greek Chicken Thighs (pictured above) and Greek Salad – perfect! So I set out to make my own little Greek feast. Both of these recipes were super easy and took no time to make. I think this was one of Hubby's favorite meals I've ever made – he loved the combination of flavors. The chicken thighs were awesome, but my favorite was the salad – I'll definitely be making that one over and over again – in my opinion, it tasted better than a restaurant's!
Greek Chicken Thighs
-For the Love of Cooking
2 tsp olive oil, divided
1-2 shallots, sliced into thin rings
1 clove of garlic, minced
6 boneless/skinless chicken thighs, trimmed of any fat
Sea salt and fresh cracked pepper, to taste
Garlic powder, to taste
Dried oregano, to taste
Handful of grape tomatoes
Small handful of kalamata olives, sliced in half
1/2-1 lemon juiced
Zest of one lemon
2 tbsp fresh parsley, chopped (divided)
2 tbsp low fat feta cheese
*I also chopped up some roasted red peppers and threw them in – it was great!
Preheat the oven to 425 degrees. Heat 1/2 tsp of olive oil in an OVEN SAFE skillet over medium heat. Once hot, add the shallot and cook, stirring frequently until soft and tender (about 2 minutes), add garlic and cook for an additional 45 seconds, stirring constantly. Remove from the pan and set aside.
Add the remaining olive oil to the same skillet and turn the heat up to medium high heat. Season the chicken thighs with salt, pepper, garlic powder and oregano to taste on each side. Once the pan is very hot, add the seasoned chicken breast to the skillet. Cook for 2-3 minutes, until the chicken is golden brown on one side, flip the chicken and add the grape tomatoes, kalamata olives, shallot and garlic mixture, lemon zest, lemon juice and half the parsley then season with sea salt and black pepper to taste. Place in the oven and roast for 9-10 minutes or until the chicken is cooked through. Remove from oven and sprinkle with the remaining parsley and the feta cheese. *I served mine over Couscous, but rice or pasta would be great too.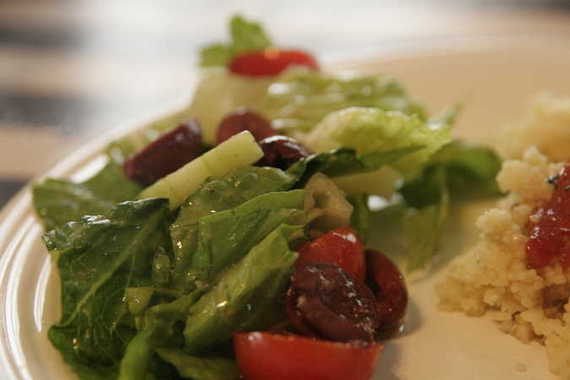 Greek Salad
-For the Love of Cooking

For the Salad:
Romaine lettuce, chopped
Kalamata olives
Grape tomatoes
Cucumber, seeded and chopped
Feta cheese
Sea salt and fresh cracked pepper, to taste

For the Lemon Garlic Dressing:
6 tablespoons olive oil
Juice of 1/2 of a lemon
1-2 garlic cloves, minced (I used a microplane to grate mine in)
2 tsp red wine vinegar
Sea salt and fresh cracked black pepper, to taste
1/4 tsp dried oregano
Whisk all ingredients together until thoroughly combined. Taste and re-season if needed. Toss the salad with the dressing and serve.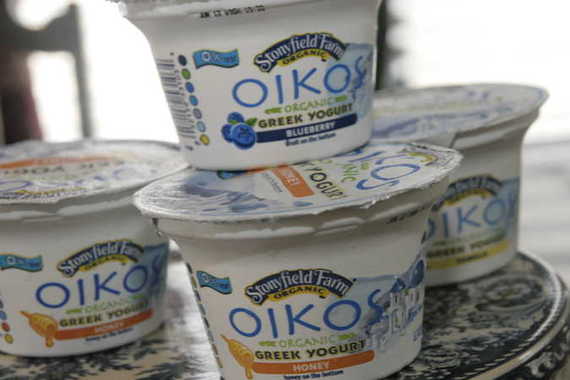 And now for the yogurt! A few weeks back, a representative of Stoneyfield Farm asked if I would be interested in trying their new Greek yogurt cups….heck yeah, I would! I had actually never tried Greek yogurt, so I was super excited to try this.  The verdict: Ohmygawh amazing! Greek yogurt is my new favorite!! It's so thick and creamy…YUM! And I especially liked the flavored ones – they had blueberry, honey and vanilla. The honey was by far my favorite- the honey is at the bottom and you stir it in….so freaking good! (And I promise I'm not just saying that for the Stoneyfield people…these really were amazing). I don't know if I was supposed to cook something with the yogurt or just eat it. Hopefully just eat it, because that's what I did – they were so good by themselves, I didn't want to use them to cook with. I'm selfish like that, I guess….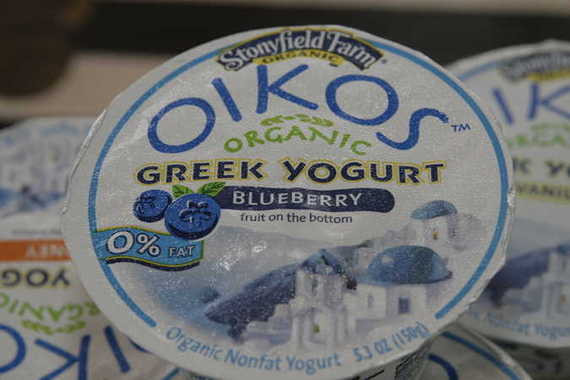 And that pretty much brings us to the end of my Greek Week…give the chicken thighs and salad a try – you definitely won't be sorry!! Hope everyone has a happy Memorial Day on Monday – enjoy your weekend!