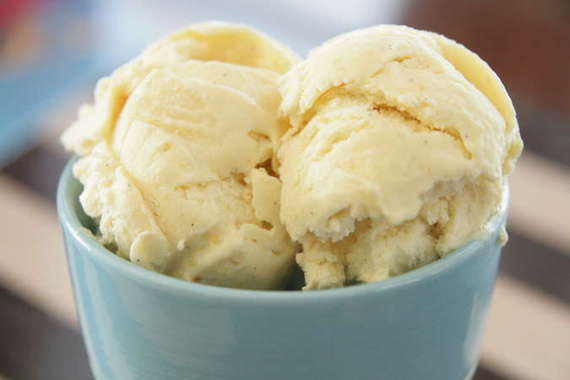 Yep. Today's my birthday. The big two-five. I can now rent a car. My insurance goes down a little. I can justify eating ice cream cake. Those are a couple of good things I guess. The bad things – I'm five years from thirty. Halfway to fifty….dear Lord. It seemed like just yesterday I was just graduated from college, turning twenty-two, getting married….jeez. You blink and three years go by. My birthday's been great so far – had my family over for a little party (complete with my own ice cream cake!) this past weekend, went out to dinner last night with hubby's parents to my favorite restaurant, and tonight hubby and I are trying a new oyster bar – and of course, I've gotten some great gifts! Anyway, this post isn't really about my birthday – it's about Dorie's Honey Peach Ice Cream. The greatest frozen treat ever concocted. I mean, yeah, my birthday is pretty important, but not quite as important as honey peach ice cream; this is serious ice cream, ya'll……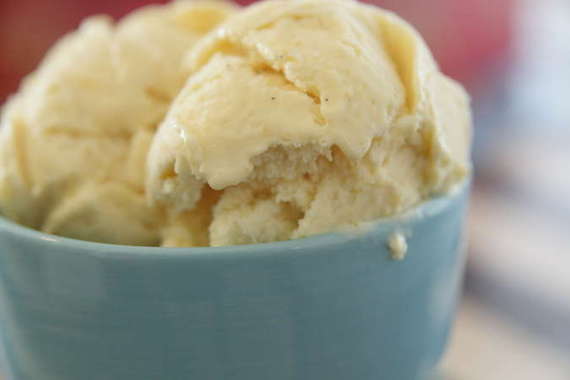 I've made this once before, last summer, and totally fell in love. It's peachy, incredibly creamy, and the honey gives it a smoothness and flavor that totally set it apart from all other ice creams. I'm completey sold on this ice cream. It's my all-time favorite. Dorie talks about her love of ice cream in her book, Baking From My Home to Yours (the book we bake from) – and you can make any of her recipes and tell right off that this woman knows her ice cream. The Blueberry Sour Cream is to die for, and of course the Honey Peach is amazing…I can't wait to give the others a try!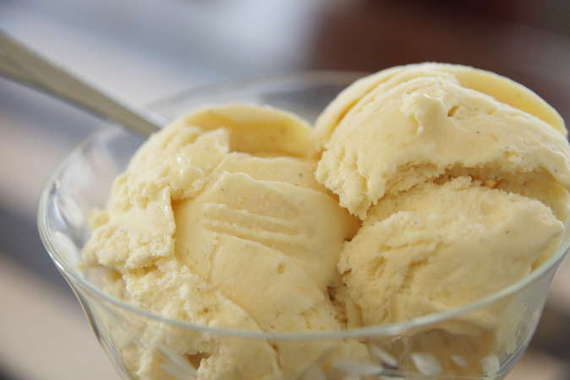 To make this, basically you just boil your milk mixture and your honey/peach mixture, then blend it all together in a blender and throw it in your ice cream maker. Coudn't be easier – or more delicious. Dorie reserves a few chunks of peaches to toss in the ice cream mixer at the last minute, but I personally wasn't a fan of the frozen peach bits last time, so I just pureed all the peaches and enjoyed it much more this time. My parents were visiting, so they got to sample it and really loved it. This is one of those recipes I'll make every single summer from now on.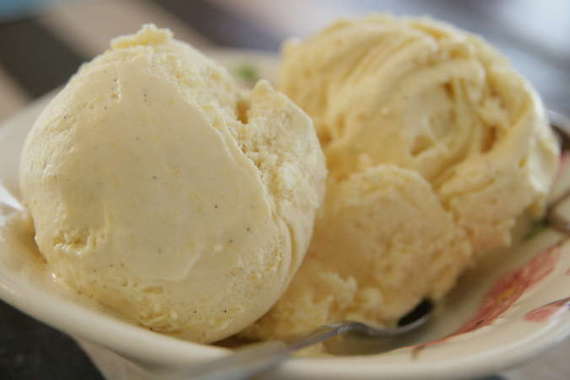 Do yourself a (big) favor right now and check out Tommi's blog – Brown Interior, and get the recipe for this amazing ice cream! And THANK YOU, Tommi, for picking one of my absolute favorite Dorie recipes for my birthday!!  This ice cream was the cherry on top of a great birthday!
And P.S. – a BIG thank you to my good buddy Andrea, for showing my how to (finally) use my camera….it's amazing how all those little buttons actually DO something! 🙂