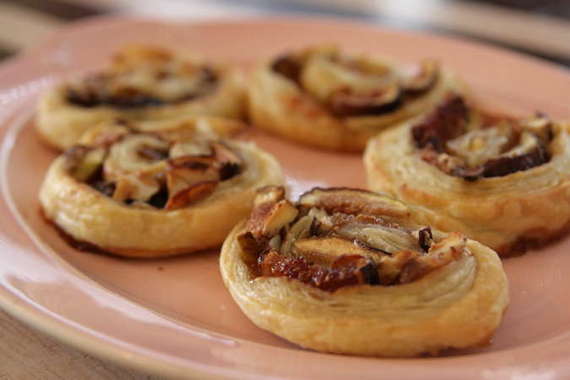 You may find this hard to believe, but I have never had figs before. I mean, of course I had tried Fig Newtons when I was younger, and like most kids, hated them. But when I saw that my local grocery store had a big, beautiful display of them, (and despite the fact I had no idea what to do with them) I just couldn't resist. So, I spent all last week trying to find or think of ways to use my big, beautiful figs. Finally, I just rolled out a sheet of puff pastry and went from there.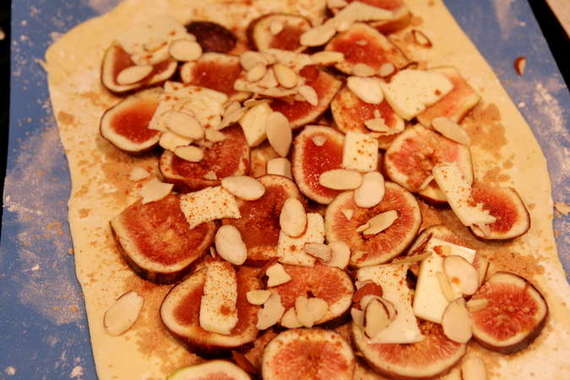 I sliced them up and scattered them all over the puff pastry along with brown sugar, cinnamon, sliced almonds and butter, rolled it up, sliced them into little pinwheels, threw them into the oven and hoped for the best. I couldn't believe how beautifully they turned out! Just like I'd hoped!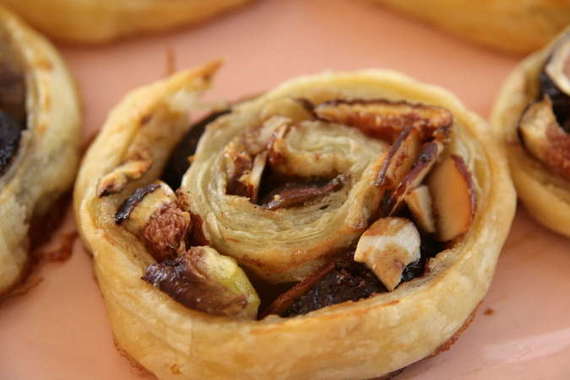 There are still tons of fig recipes I'd like to make in the future, but I was really glad I decided to start with this one. These would be great with coctails, or for dessert – very versatile, in my opinion! Hubby really loved them, and while I'm still getting used to the taste of figs – I thought they were great too.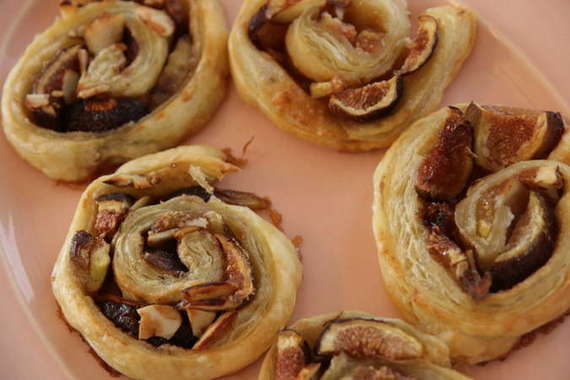 Fig and Brown Sugar Pinwheels
1 sheet puff pastry, thawed
6-8 fresh figs, sliced length-wise (I used Brown Turkey figs, but you could also use Kadota or Mission)
1/2 cup brown sugar
1 teaspoon cinnamon
1/3 cup slice almonds
2 tablespoons butter, melted and cooled (In the picture above, I didn't melt the butter – I just placed little pieces of butter over the top of the figs, but I think melting it would be better!)
Preheat oven to 350 degrees. On a floured surface, roll out the puff pastry slightly. Brush the melted butter over the pastry, then top with brown sugar. Spread the sliced figs evenly over the whole surface, then top with cinnamon and sliced almonds. Roll the puff pastry up like a jelly roll, then slice into little pinwheels – you should get 10-12 rolls. Pinch the edges of each pinwheel to keep them from coming unrolled. Place on a baking sheet lined with parchment paper and bake for 15-20 minutes, or until golden brown and bubbly. Enjoy!