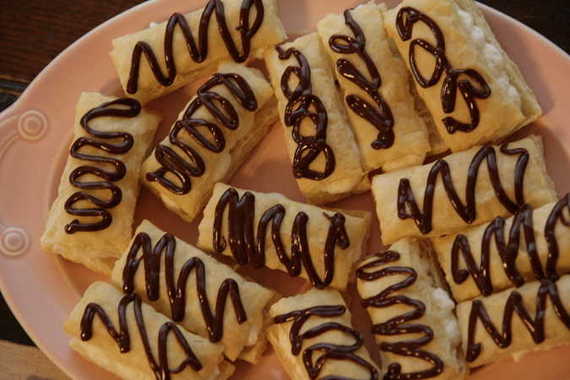 A while back, I saw this recipe on Bunny's Warm Oven and thought it would make a great dessert for company! A few weeks ago, I had my parents over for a nice dinner and decided to serve these for dessert. They were a big hit, thankfully – and so simple to make. I love that it calls for puff pastry!
Cream-filled Pastry
-Bunny's Warm Oven
PASTRY:
1 pkg. frozen puff pastry sheets, thawed per package directions
Remove the package of puff pastry from the box; take it out of the wrapper and allow it to sit on the counter @ room temperature for 20-30 minutes Carefully open one pastry sheet along the creases; place remaining sheet in the refrigerator to keep it cold (I cut the pastry when it's partially frozen-as long as I can unfold it and it doesn't tear, it's fine. The pastry seems to puff higher when it bakes if it's cold when it goes in the oven). Using a long, sharp knife, cut each strip of pastry at creases, forming 3 strips. Cut each strip widthwise into 7 pieces, slicing straight down-don't drag the knife across the pastry. Flip each cut piece over (to place the side you cut on down onto the sheet). Place on lightly greased baking sheets, leaving room between each piece. Repeat with remaining sheet of pastry. Bake at 400 degrees for 10-12 minutes or until golden brown. Remove to a wire rack and cool completely. Using a serrated knife, slice through the center to make top and bottom halves.
CREAM FILLING:
1 c. whole milk
5 Tbsp. all-purpose flour
1 c. granulated sugar
1/2 tsp. salt
1/2 c. shortening
1/2 c. butter or margarine, at room temperature
1 tsp. vanilla extract
Place flour in a small saucepan; slowly whisk in milk. Cook and whisk constantly over low heat until mixture thickens and comes to a boil. Remove from heat; place mixture into a small bowl. Cover bowl with a paper towel and cool to room temperature.
Place cooled mixture in bowl of electric mixer; beat until fluffy. Add remaining ingredients, one at a time, and continue beating on medium-high speed for 5-10 minutes or until light and fluffy (I use my KitchenAid mixer-I start with the paddle, then when all the ingredients are very well mixed, I switch to the whisk attachment and let that do the rest of the work). The mixture should look like a whipped cream type frosting. I rub a little of it between my fingers to make sure the sugar has totally dissolved. Spread about 1 Tbsp. of filling on bottom half of each pastry; replace tops. Store in refrigerator. Yield: 42 pastries.
*I used Dorie Greenspan's chocolate ganache recipe for the glaze on top:
3 oz bittersweet chocolate, coarsely chopped
1 tbsp confectioners' sugar, sifted
2 tbsp cold unsalted butter, cut into 6 pieces
Melt the butter, then pour over the chocolate and stir until chocolate melts. Gradually whisk in the sugar and stir until lumps are gone. Let sit at room temp. to cool slightly before using.
I just used a ziploc baggie with a tiny hole cut in the tip (a la Aunt Sandy) to pipe the chocolate onto the pastries.3 oz bittersweet chocolate, coarsely chopped (Valrhona bittersweet 70%)