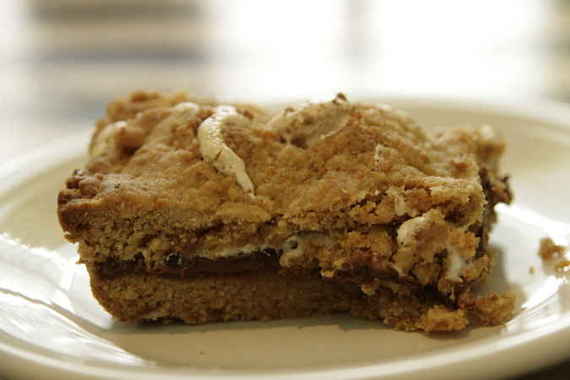 The other night was a serious "girl-on-the-edge-needs-chocolate" kind of night. I toyed with making the Pioneer Woman's chocolate sheet cake (don't worry, that will come shortly, I can assure you!) or a delicious chocolate cake I found in another of my favorite blogs, Joy the Baker – but I decided to take one last peek at my saved recipes from other cooking blogs and stumbled across S'more bars from Noodle Nights and Muffin Mornings – bingo. Anything with chocolate, marshmallow and graham cracker crumbs sounded utterly perfect to me, so on with the S'more bars!
These were delicious – even hubby, whose respones to my baked goods are usually along the lines of, "yeah, its pretty good" loved these and made a point to tell me over and over again how much he enjoyed them! I sent the rest of the bars to work with him the next day and he came home with rave reviews. Bullseye!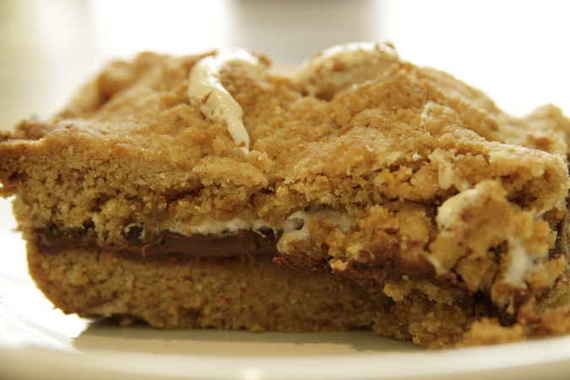 S'more bars
Noodle Nights and Muffin Mornings blog
Ingredients:
1/2 cup (1 stick) butter or margarine, softened
3/4 cup sugar
1 egg
1 teaspoon vanilla extract
1-1/3 cups all-purpose flour
3/4 cup graham cracker crumbs
1 teaspoon baking powder
1/4 teaspoon salt
4 (1.55 oz. each) Milk Chocolate Bars
1 cup marshmallow creme
Directions: Heat oven to 350°F. Grease 8-inch square baking pan.
Beat butter and sugar in large bowl until light and fluffy. Add egg and vanilla; beat well. Stir together flour, graham cracker crumbs, baking powder and salt; add to butter mixture, beating until blended. Press half of dough into prepared pan. Arrange chocolate bars over dough, breaking as needed to fit. Spread with marshmallow creme. Scatter bits of remaining dough over marshmallow; carefully press to form a layer.
Bake 30 to 35 minutes or until lightly browned. Cool completely in pan on wire rack. Cut into bars.
Yields 16 bars