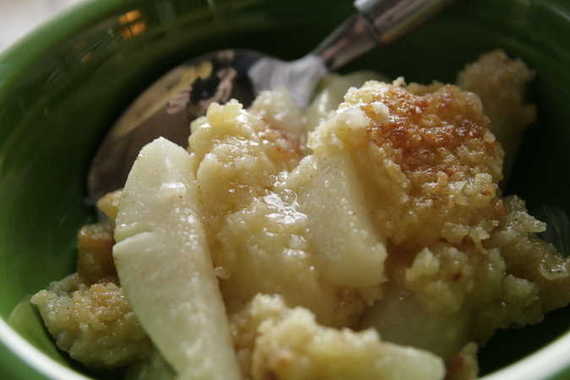 (Hehe – if you look really close, you can see my reflection in the spoon!)
There comes a time (not very often, mind you) when you want something more than chocolate chip cookies or brownies for dessert. Now, I LOVE a good chocolate chip cookie fresh out of the oven…there's nothing like it! But on a cool Fall night, there's nothing better than a bowl of warm apple crisp – soft, cinnamony apples covered with a crispy, yet slightly chewy, buttery topping, dripping with a scoop of melty vanilla ice cream. Ohhhhhh baby…..now THAT'S a dessert!! And the fact that it takes practically no time to prep, which means you don't have to wait long to shove your pie hole full of a big 'ol bite, doesn't hurt its case, either! Its one of those quick fix desserts that I find myself making every single Fall. The same recipe. Everytime. Why change a good thing, you know?
BUT – I didn't come here to talk about apple crisp….I'd rather talk about pear crisp. ("Oooh, pear crisp?" you're thinking….yeah, pear crisp – and its fantastic!) Yesterday I was at the grocery store picking up stuff for dinner (beef tips over rice – post coming soon!) and as I walked through the produce section, I was hit in the face with the overwhelming smell of fresh, juicy pears. "Hmmmm, pears would be great in place of apples in my apple crisp recipe!" ,  I thought! So I decided to give it a try and boy was I glad I did! This was delicious! Last night was a really chilly night, and hubby and I cuddled up on the couch with a big bowl of warm pear crisp and had ourselves a fantastic night! I highly recommend this recipe – its just delicious!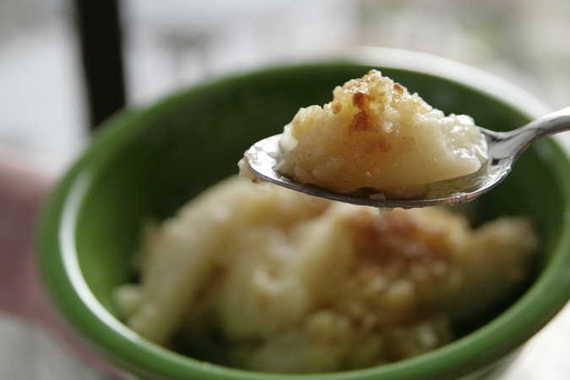 Pear Crisp
-original apple crisp recipe from my mom
1 Cup AP flour
1 Cup sugar
pinch salt
1 stick butter or margarine, melted (I found that about 6 tablespoons does the trick – a whole stick is a little too much, in my opinion)
1 egg, beaten
cinnamon to taste
3 -4 pears, peeled, cored and sliced into wedges
juice of half a lemon
Preheat oven to 350 degrees and grease a square baking dish. In a bowl, whisk together flour, sugar, and salt, then add the beaten egg and stir until you have pea-sized pieces of dough. Place sliced pears in the baking dish and squeeze lemon juice over them; sprinkle desired amount of cinnamon over pears. Sprinkle crumb topping over pears and pour the melted butter evenly over the topping. Cover and bake for about 20 minutes, then remove foil and bake for another 20 – 25 minutes or until golden brown and bubbly. Serve with a big 'ol scoop of ice cream!