I love bread. I love chocolate. I love soggy, chocolatey bread. So you can imagine I thoroughly enjoyed this week's TWD recipe chosen by Lauren of Upper East Side Chronicle (soon to be A Baking Blog), 4-Star Bread Pudding. I'm sure you all know how bread pudding works, basically you soak stale bread cubes in a milk mixture and bake it – deeeelicious. Dorie boils milk and cream together and mixes it together with eggs, sugar and chocolate; she pours it over stale Challah or Brioche and raisins or dried cherries and voila, chocolate bread pudding.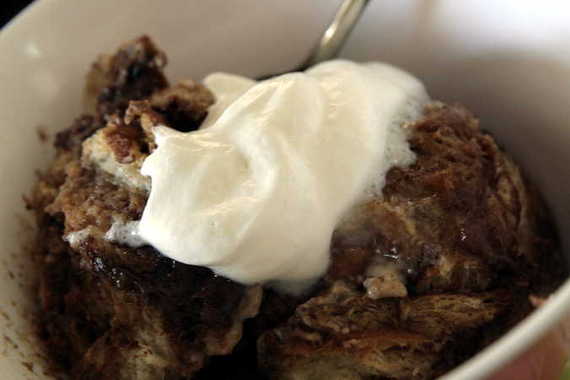 Now, I didn't do excactly as Dorie told me to. I decided to pass on the option of the raisins or dried cherries (I don't believe in fruit/chocolate mixtures- you know that!), I added a dash of cinnamon, and I also tossed in some semi-sweet chocolate chips with my bread. I ended up using twice the amount of chocolate called for and still could've used a tad more….I know..it's a sickness. We're looking into it. I used Challah bread, which was perfect – I love Challah. Especially the smooth, shiny crust – beautiful.
I personally think this recipe would be perfect at breakfast/brunch. To me, it seems to fit in somewhere in the family of my personal breakfast favorite, chocolate chip pancakes (with the whipped cream smiley face, thankyouverymuch!). I was really glad I added the extra chocolate chips – it really added to the "gooeyness" and in my opinion helped a lot with the taste and texture.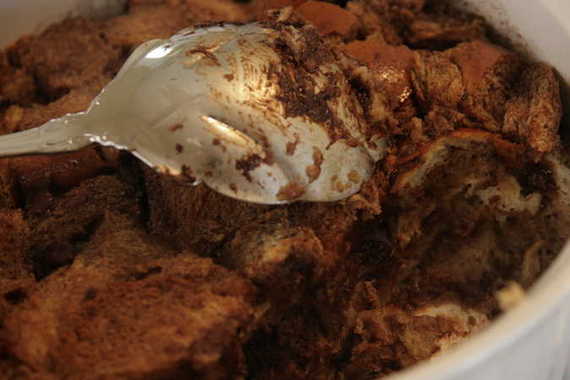 If you would like the recipe, head on over to Lauren's blog and make yourself a chocolate bread pudding this weekend!