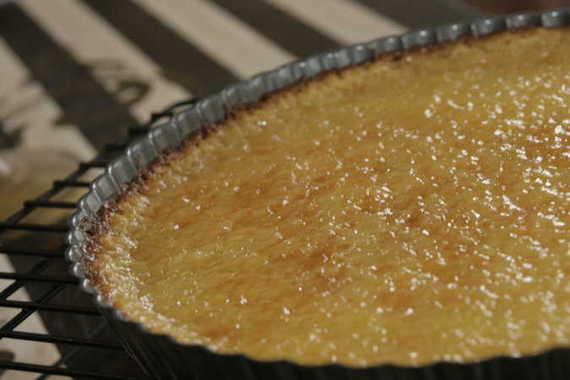 First, let me start by saying how glad I am to be back to normal and back to blogging again! After a week and a half of being sick, I'm glad to report that I'm healthy again and back to my old self! Of course, now my hubby is sick, wouldn't you know….but don't worry, I'm taking good care of him. 🙂
Ok, so, this week's TWD recipe is Dorie's Tartest Lemon Tart, chosen by Babette of Babette Feasts. It sure was nice to get back into my kitchen again and bake lots of goodies – I was very busy this weekend, in fact. Besides making this tart, I also got ready for my Mother's Day brunch by baking next week's mango bread and defeating my fear of yeast with the Pioneer Woman's cinnamon rolls (all coming soon!). I was actually really excited about this tart because my mother loves lemony desserts but never gets them because my daddy doesn't like lemon – perfect!- the tart would be part of my mom's Mother's Day gift!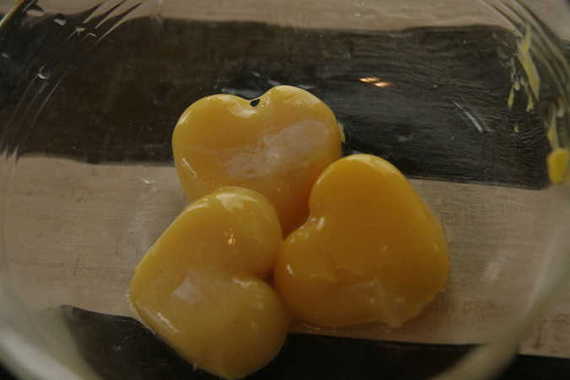 The thing that makes this tart extra special (and extra lemony) is the fact that the recipe uses the entire lemon – zest, pulp, juice, everything. You cut the lemon in pieces and throw the whole thing into the blender with some sugar, egg yolks (pictured above- I had frozen them in a heart shaped ice tray) and a few other things, blend it all together and pour it into Dorie's amazingly delicious tart crust.  A few TWD members had issues with it being too bitter due to the pith of the lemon, however, I heard from my mother and she said she really enjoyed it. She said it was definitely tart, but she loved it. Yay!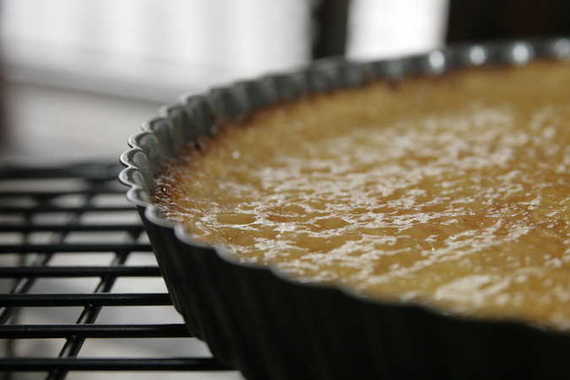 If you would like the recipe, visit Babette's blog and she'll fix you up! My mom said this is the perfect summer dessert, so everybody get busy and make yourself a lovely, summery lemon tart!