**WARNING** This post contains large amounts of cheesiness and ooey gooey "warm fuzzies". Please don't make fun of me. Thank you.
This is a very special week for TWD – not only are we celebrating one year since Laurie dreamed up this amazing group, but Dorie herself (as in Tuesdays with) has chosen the recipe for this week!!! I mean, how freaking awesome is that?! I've been looking forward to this post all week!
**And just in case Dorie reads this (hey, a girl can dream, right?), I want to say what a joy this group has been for me. Before I joined TWD, the only things I ever baked came out of a box. I never really knew how good something baked from scratch could taste. Now I bake almost everything from scratch (except brownies…honestly, I just haven't found a recipe I like better than good 'ol Duncan Hines! I'm not ashamed!), and I'm so much more open to new recipes and ideas than I was a year ago.  I mean, last week I made my first EVER cheesecake! That was huge for me, and it's all because I committed to this group and this amazing book. I have so much pride in the things I bake now….and I owe that to being in this group and most importantly to Dorie.
Ok, enough of me being a huge loser. Onto the recipe! Dorie chose one of her favorites for us this week- the French Pear Tart (oooh, ahhhhh…)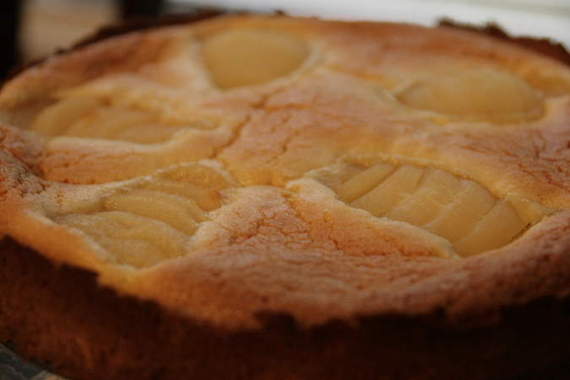 I was so glad Dorie chose this, because honestly it's not something I would've chosen on my own, but it turned out to be fantastic! It starts out with Dorie's Sweet Tart dough (which is awesome, by the way – it tastes like a shortbread cookie!), filled with an almond cream, then topped with sliced pears. The great thing about this dessert is, you can use canned pears if you're short on time – Dorie gives you permission! The almond cream calls for either rum or vanilla extract, but I wanted to use my new vanilla paste, so my custard had lovely little flecks of vanilla bean all through it, which I really liked! My crust got a little too "done", but it still tasted wonderful!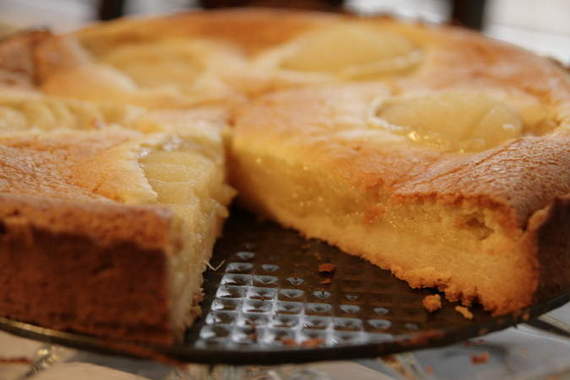 I had to use my 9 inch springform pan because I didn't have the right sized tart pan; so mine looks a little less "Frenchy" and a little more "rustic". This was a really good tart and hubby and I both really enjoyed it. I think it would be great to serve for company – it looks really impressive but it doesn't require a lot of work! Perfect!  Dorie will be featuring this recipe on her blog (and trust me, her's looks waaaaaaay better than mine!) so be sure to head over there and check it out!! Seriously. Go now.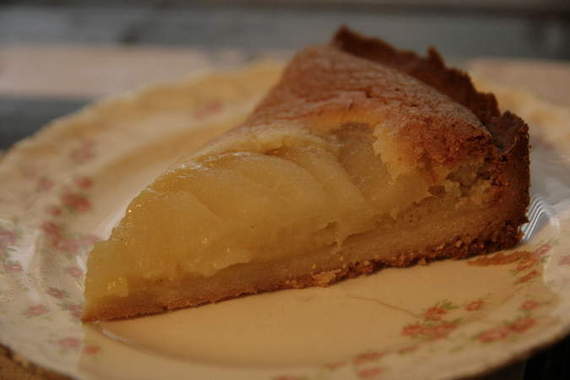 If there are those of you out there that do not own a copy of Baking From My Home to Yours by Dorie Greenspan, let me urge you to go out and get yourself a copy. This book changed my life – seriously. I haven't come across a bad recipe yet. Or even just a mediocre recipe, come to think of it – they're all absolutely amazing. Go! Grab yourself a copy and start baking! Your husbands will thank you. And HAPPY BIRTHDAY TUESDAYS WITH DORIE!!! Here's to another great year!