What picnic, barbeque or 4th of July party would be complete without deviled eggs?? It just wouldn't be right to have barbecued chicken and not have deviled eggs with it. I seriously love deviled eggs. I stuff my face with them whenever they show up to a party, and I make them every chance I get. Yummmmmmm. Recently, at Easter dinner, my Uncle Steve (who is an amazing cook – his food is to die for!) was in charge of the deviled eggs. Not only did he bring the deviled eggs – he brought Jalapeno deviled eggs, with chopped, fresh Jalapenos mixed right in. SO GOOD! They were gone in seconds! I know it sounds simple, but even a small change like adding a little jalapeno made these so amazingly good – they've stuck with me since then, and I set out to make some of my own!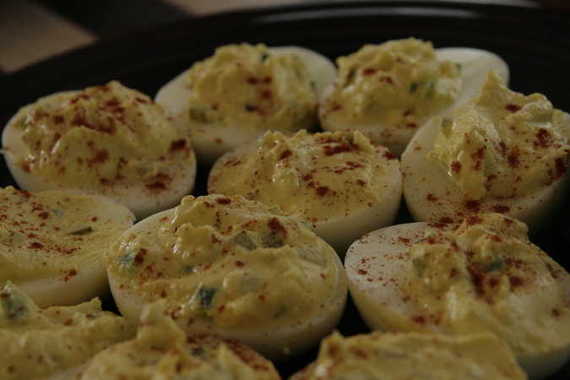 I wasn't able to find out exactly how Uncle Steve made them, because the same night I was making them, he somehow managed to break a rib -I didn't think it would be the best idea to call about deviled eggs when the man had a broken rib…call me crazy… So I just decided to wing it. I ended up just making them the way I normally do, but then adding a handful of fresh jalapeno. I don't know if he did that or not, but oh well – these were delicious!
Jalapeno Deviled Eggs
(*makes enough for 2)
*Reminder: when I make stuff like this, I don't measure, so all of these measurements are approximations. If you like more, add more; if you like less, add less! It's all about personal taste, here!
4-5 large eggs, hard boiled
1 tablespoon mayonnaise (you can use the real stuff or Miracle Whip…whatever you like)
1 teaspoon dijon mustard
splash of white vinegar
small handful of finely chopped dill pickle
handful of chopped fresh Jalapeno pepper
salt, pepper and cayenne pepper to taste
paprika for garnish
*I like to keep some pickle juice handy just in case it's too thick at the end- then I thin it out with the pickle juice
Slice the eggs in half length-wise and scoop the yolks out into a small bowl. Set the white aside. Mix in all other ingredients with the yolks and mash it all together, making sure to get rid of all the lumps. Taste for seasoning/texture and add extra mix-ins (ex: mayo, pickle juice, salt, etc) if needed. Scoop a small amount into each egg white and arrange on a plate. Sprinkle eggs with paprika. Chill until ready to serve. Enjoy!