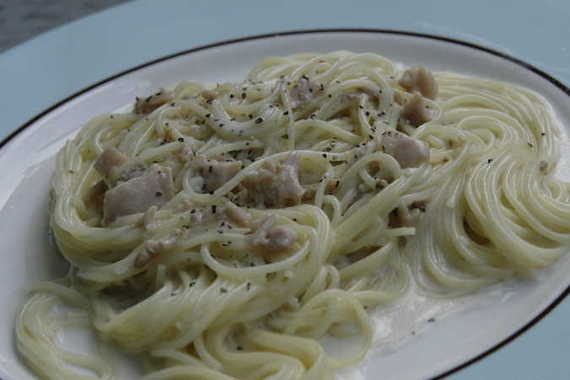 Yesterday was my hubby's birthday and I always make him a very special meal instead of us going to a nice restaurant (its so funny to me that on my birthday, I want to get dressed up and go out for dinner whereas hubby prefers to stay at home and relax on his birthday!) I saw this recipe on Tastespotting.com and knew it was the perfect birthday dinner, because everytime we go to an Italian restaurant, hubby orders the linguine with clam sauce…I knew he'd love this!!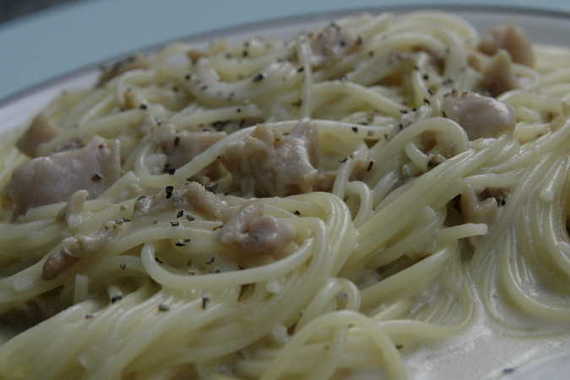 This was so easy…it literally took me minutes to get the sauce done. You know, after making this meal, I have to stop and wonder why I knock myself out every year on some fancy-shmancy, uber complicated recipe…hubby loved this – a lot! He went on and on about how good it was! I almost felt guilty about making such simple dish, but then I thought, "hey, the easier and quicker the meal…the more time for birthday fun!", which I think hubby was thankful for! Anyway, the bottom line: this dish was awesome, hubby felt special and pampered on his birthday, and I didn't have to slave away in the kitchen all day. Perfect. Give this one a try!!
Spaghetti with Clam Sauce
–The Food Channel
12 ounces spaghetti, cooked, drained
2 tablespoons butter
4 garlic cloves, minced
2-6 1/2 ounce cans clams, minced, drained, reserve liquid (about 1 1/2 cups)
1 tablespoon oregano (or 1/2 tablespoon dried)
1/4 teaspoon crushed red pepper
1 cup reserved clam juice
3/4 to 1 cup heavy cream
1/2 cup Parmesan cheese, freshly grated
Cook the spaghetti noodles in salted boiling water until done. Drain, set aside.
In large non-stick skillet, heat 2 tablespoons butter over medium heat. Add clams and garlic; sauté for 2 minutes.
Add oregano, crushed red pepper and clam juice to skillet and cook 3 minutes or until liquids start to reduce. Add cream to enrich and reduce slightly so that the sauce has a nice coating consistency but isn't too thick.
Add pasta and Parmesan cheese to skillet and toss.