No Tuesdays with Dorie this week….honestly, I just didn't get a chance to make it. Ooops.
BUT – here is a scrumdiddlyumptious pasta dish instead!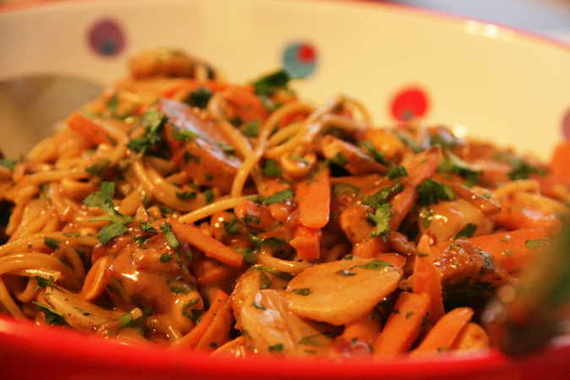 We used to go to the Cheesecake Factory a lot and my absolute favorite dish to order was the Thai Chicken Pasta. I've made it at home a few times, but I used a bottled peanut sauce, which was pretty good, but I wanted to make a homemade sauce this time. I started just throwing in things that I thought would work together and ended up with a great peanut sauce. I don't mean to toot my own horn, but this was one fantastic pasta (toot, toot!).
Thai Chicken Pasta
For the Peanut Sauce:
1 cup smooth peanut butter
1/4 cup soy sauce
3 teaspoons chili paste
2 tablespoons brown sugar
2 limes, juiced
1/2 cup hot water
1 clove of garlic, minced
1 teaspoon rice vinegar
1 teaspoon ground ginger
1/2 teaspoon sesame oil

For the Pasta:
1/2 a pound thin spaghetti, fully cooked and drained
2 boneless, skinless chicken breast, fully cooked and sliced diagonally (I like to roast mine with olive oil, salt and pepper)
2 carrots, julienned
1 small can water chestnuts, drained
handful chopped peanuts, for garnish
bunch cilantro, chopped
To make the sauce, put all ingredients in a small bowl and mix until well combined. Store in the refrigerator until needed.
Blanch the carrots in boiling water for about 3 minutes, pulling them out while they're still bright and crisp. Place in a large bowl with the cooked pasta, sliced chicken, water chestnuts, and cilantro. Pour the sauce over the pasta and toss to coat; top with more cilantro and chopped peanuts. Serve and enjoy!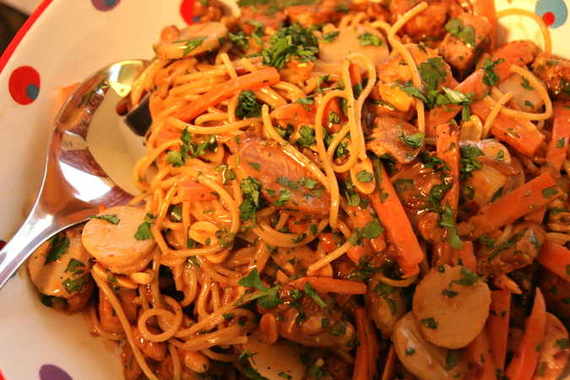 Give this a try soon – you'll love it!