Tuesdays with Dorie Holiday "Twofer" Pie: a blend of pumpkin and pecan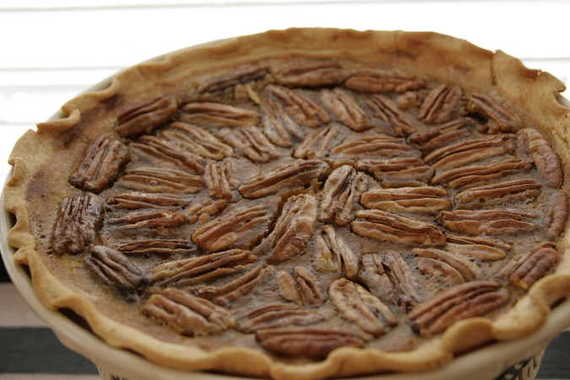 Happy Thanksgiving, ya'll! (I know – you're probably wondering why I'm blogging on Thanksgiving evening instead of enjoying family time….well, I figured blogging about pie might be a little more fun than watching A&M get slaughtered by Texas….hubby isn't happy.)  This week's TWD recipe was chosen by Vibi of La Casserole Carree. As I said before, it's a Holiday "Twofer" pie – a layer of pumpkin pie and a layer of pecan. Extremely tasty. The dark rum added a whole lot of flavor.
Holiday Twofer Pie
-Dorie Greenspan
1 9-inch unbaked pie crust
For the Pumpkin Filling:
1 cup canned unsweetened pumpkin puree
2⁄3 cup heavy cream
1⁄2 cup (packed) light brown sugar
1 large egg
1 large egg yolk
2 tsp. dark rum
1⁄2 tsp. pure vanilla extract
1⁄2 tsp. ground cinnamon
1⁄4 tsp. ground ginger
1⁄4 tsp. salt
For the Pecan Filling:
1⁄2 cup light or dark corn syrup
1⁄4 cup packed light brown sugar
2 tbsp. unsalted butter, melted
1 egg
1 egg yolk
1⁄2 tsp. pure vanilla extract
1⁄4 tsp. ground cinnamon
1⁄8 tsp. salt
1 1⁄2 cups (about 7 oz.) pecan halves or pieces
For the pumpkin filling: Pulse all ingredients together in a food processor. Leave filling in bowl.
For the pecan filling: In a bowl, whisk together all ingredients except pecans until smooth.
Preheat oven to 450°. Roll dough out to a 12″ circle on a floured counter, turning dough over frequently; keep counter floured. Slide dough into the fridge for about 20 minutes to rest and firm up. Fit dough into a buttered 9″ pie plate; cut excess dough to a 1⁄4″–1⁄2″ overhang. Fold dough under itself, so that it hangs over the edge just a tad, and flute or pinch the crust to make a decorative edge.
To assemble: Give the pumpkin filling one last quick pulse, then remove bowl, rap it on counter to debubble batter, and pour filling into crust. Top pumpkin filling evenly with pecans, then pour over pecan filling. Poke down any pecans that float to the top and aren't covered with filling. Bake pie for 10 minutes. Reduce oven temperature to 300° and bake for another 35–40 minutes, or until it is evenly puffed and a slender knife inserted into the center comes out clean. Transfer pie to a cooling rack and let it stand until it is just warm or until it reaches room temperature.
Here are just a few more Thanksgiving pictures! Enjoy!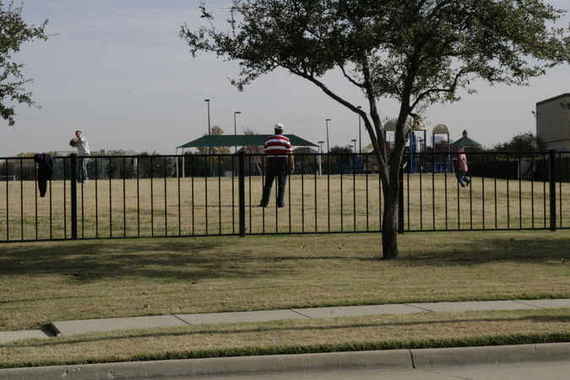 Hubby, brother-in-law, nephew and Daddy playing football across the street.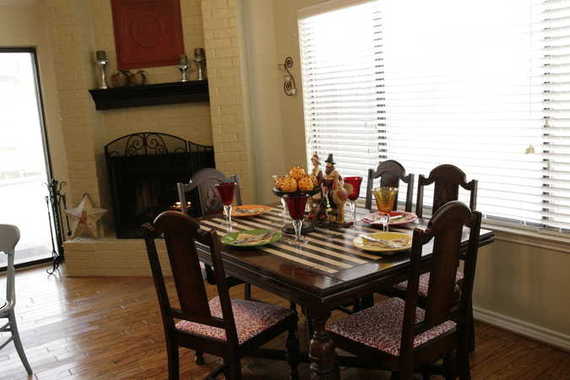 My Thanksgiving Table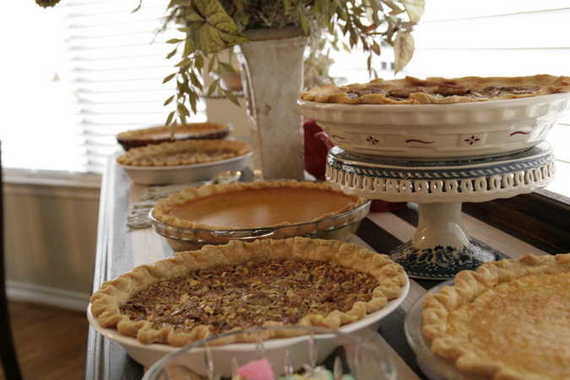 Pies galore! Pumpkin, pecan, buttermilk, and of course, my TWD pie.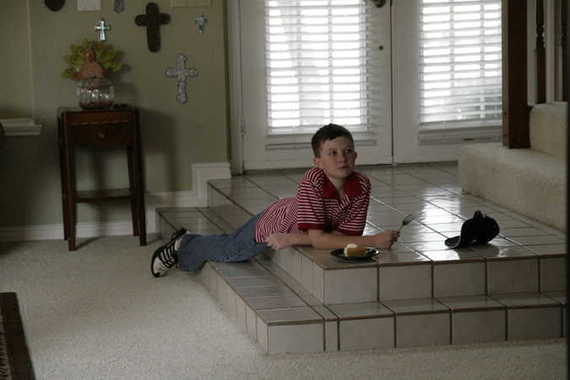 Nephew having his pie on the floor! Silly boy!
It was a great day! Hope everyone else had a wonderful Thanksgiving! On to the Christmas decorating!!