This week's recipe was Dorie's Double Crust Blueberry Pie, chosen by Amy of South In Your Mouth. I think pretty much all of us at Tuesdays With Dorie loved this pick and thought it was perfect for the 4th of July Holiday! I was really excited to try this recipe for two reasons: 1.) I've never had a blueberry pie before and 2.) I've actually never made my own piecrust! I couldn't wait to get started…..only there were hardly ANY blueberries to be had in my grocery store. I don't know if there's a "blueberry shortage" or what, but it was near impossible for me to find fresh blueberries (unless I was willing to spend a fortune…which I wasn't, thank you very much!). So, I had planned on using frozen blueberries; that is, until my good buddy Jessica, over at My Baking Heart invited me to come blackberry picking with her and her mother! YEE HAW! I'd never gone pickin' for anything before, so I decided fresh blackberries would be delicious!! We got TONS of ripe, delicious blackberries (sorry, Jess sent me the pictures, but I couldn't figure out how to get them onto my blog, so if you want to see pics from our little outing, go visit her blog – she's got 'em up!) and came home and made our pies.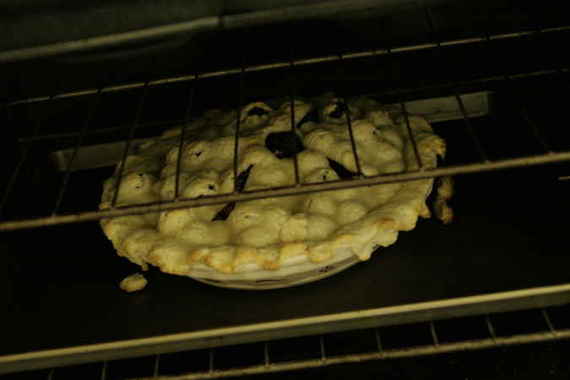 Unfortunately, I had a bit of trouble with my pie crust. I don't know if I didn't let it chill long enough before baking or what, but something just didn't seem right as it was in the oven (as you can see by the picture above!) My crust was MELTING OFF!! It was the strangest thing! Not only that, but it burned rather quickly, too, even covered with foil. However, it was still delicious! I took the pie to my mom and dad's house for the 4th of July weekend and the crust was a big hit. The blackberry filling was good…just very, very, VERY runny. I guess blackberries weren't the wisest choice here. We ended up having to eat it with spoons! However, it was still pretty tasty with my mom's homemade vanilla icecream over the top of it!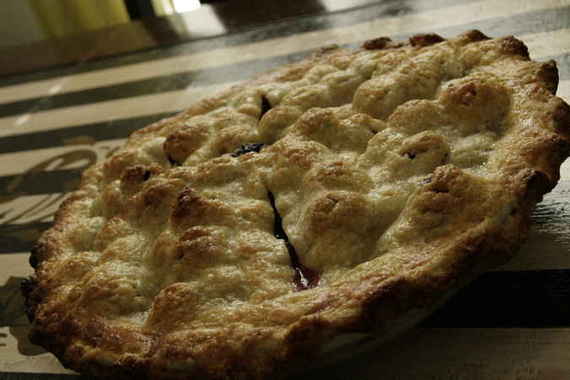 Sorry for the crappy pics….I didn't get ANY good ones of the inside of the pie, mostly because its "innards" were running all over the place and hardly looked suitable for a close-up. Regardless of the appearance of this pie, it was really tasty and my whole family enjoyed it! Nex time, I'll definitely try it with the fresh blueberries, though!