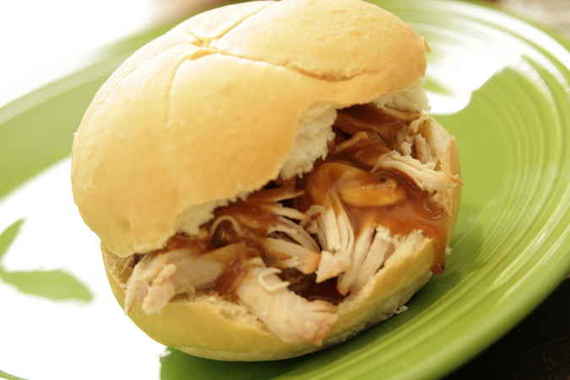 Originally, I had found a pretty good sounding recipe for pulled pork on allrecipes.com, but somehow, I ended up sort of ditching the recipe and just throwing in whatever I thought sounded good. As it turns out,  I ended up with a pretty tasty result (if I do say so myself).
Pulled Pork
1 pork butt roast (2-5 pounds, depending on how many servings you need – I used a pretty small roast since it was just the two of us)
1/2 Cup Hickory Brown Sugar BBQ sauce (however much you want, really), plus 1/2 cup
salt and pepper to taste
1 teaspoon garlic powder
1/2 teaspoon onion powder
Season pork roast with salt, pepper, garlic powder, and onion powder and place in crock pot with 1/2 cup water. Cover with 1/2 C. BBQ sauce, and cook on high heat for 4-5 hours or low heat for 6-8 hours. (Cooking time will really depend on how big your roast is).
For the Sauce:
When pork is done, remove from crock pot and set aside. Pour the remaining juice into a medium sized pan over medium heat. Stir in a little flour (approx. 1 tablespoon) and whisk. After flour is fully incorporated, add remaining BBQ sauce and whisk until sauce thickens. Season with salt and pepper to taste.
Take two forks and pull apart the pork roast into small "shreds". Pile shredded pork on top of kaiser rolls and top with homemade sauce and pickles.