No, I'm not speaking some strange, made-up language…Bum Goolie is a type of food! It's light, it's tart, it's refreshing…it's totally delicious! But what is it, you're probably wondering…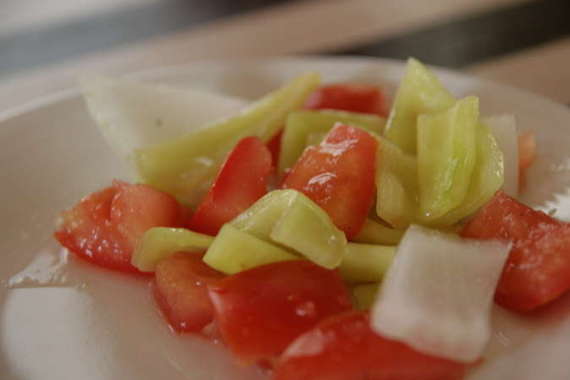 I guess you could say it's a type of salad. It's been in my family for years ever since my Aunt Bunny gave my Nana the recipe. We have no idea what the heck "bum goolie" means, but hey, it tastes good and that's all that matters. It's sort of a salad of pickled tomatoes, banana peppers and onions – that's the best way I can describe it. It's absolutely delicious in the summer when tomatoes and banana peppers are in season and the weather is hot- it's very refreshing. I love to stock up on tomatoes and peppers at the Farmer's Market and make a big batch – it goes great with pretty much every meal.
Here's how I make it:
Bum Goolie
6-8 long, fresh banana peppers, seeded and chopped into bite-size chunks
3-4 tomatoes, seeded, cut into chunks
1/2 a yellow onion, cut into chunks
1/2 – 3/4 cup white vinegar (depending on how tart you like it – add as much or as little as you like. I like mine pretty tart, so I'd probably use a little more than this)
1/2 water
1 teaspoon sugar (or more if you like it a little sweeter)
salt and pepper to taste
Mix all ingredients in a large bowl (it will be very liquidy – you'll need a slotted spoon when you go to serve it); cover and refrigerate for at least 2-3 hours. Overnight is best.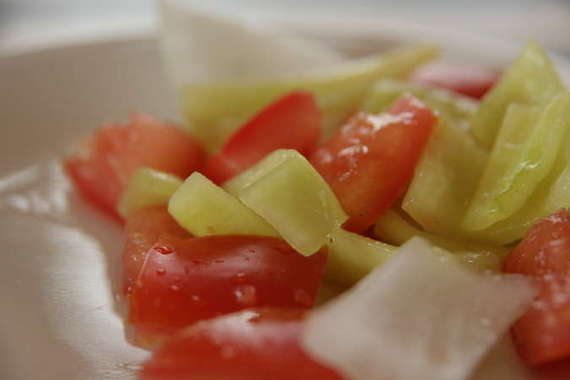 I know it looks and sounds weird, but trust me, it's delicious. I just love it in the hot summertime! Enjoy!