Poor hubby has had a hard week. So last night I wanted to make him a nice, relaxing, delicious dinner that would hopefully let him forget his troubles for a while. That's just what I did; pan-seared Ribeye steaks with a mushroom cream sauce, baked potatoes, gelato (all coming soon!) and this salad – it was a wonderful meal and a wonderful evening!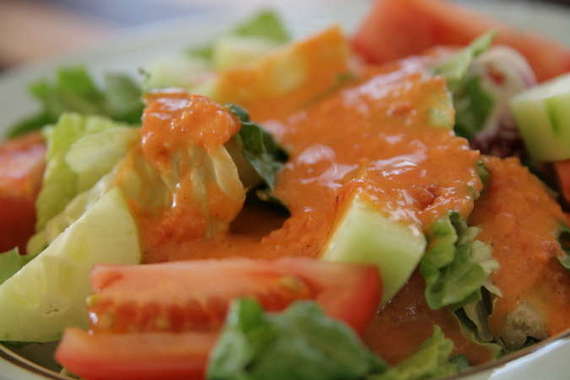 There is an Italian restaurant we like to go to that has the best house salad dressing; they make it with fresh tomatoes and it's totally delicious. I've been meaning to try and recreate it at home so we can enjoy it anytime. So of course when I saw this recipe on Kayotic Kitchen, I knew I had to try it. While this recipe was great – it wasn't quite like the restaurant style we love so much- pretty close, though. However, it's good to have this recipe on hand – it's delicious!!
Fresh Tomato Salad Dressing
-Kayotic Kitchen
3 Roma tomatoes
1 garlic clove
2 tbsp red wine vinegar
4 tbsp oil
pepper
salt
I put all ingredients in a blender and pureed it until smooth. Taste for seasoning and refrigerate until needed.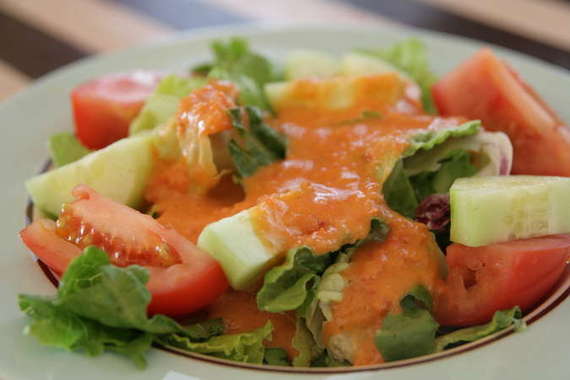 This was a great salad – it was a nice change of pace from regular ranch dressing and we both loved it! I think hubby enjoyed his meal tremendously…I know I did!