Ok, I know it's probably one of my cheesiest titles yet, but I really do want to apologize for being MIA for over a week now (and, the post is about pea salad, so there you go). I promise I have a good excuse – the opera company I sing with is doing Carmen in a couple of weeks and I'm right in the smack middle of rehearsals. Driving 30 minutes to and from almost every night and every Saturday and Sunday, getting home after 10 or 11 o'clock in the evenings, trying to memorize music, and remember where I'm supposed to stand on stage without looking like a complete idiot (which still happens quite a lot, incidentally)….all this plus dog-sitting a poodle along with my own high energy pup and teaching voice lessons two days a week. This doesn't leave much time for food-blogging. And to be quite honest, I haven't cooked a thing in over a week – except this pea salad.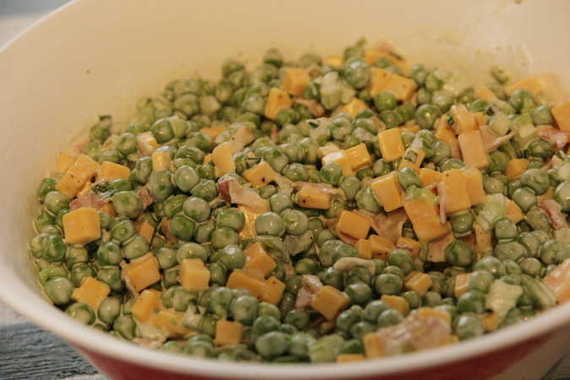 Easter was a really nice, welcomed break for the hubby and me. On top of the joy of celebrating Jesus's resurrection, being with family, eating tons of Nana's delicious ham and other yummy Easter-y things, it was just nice to have some time off and rest a bit. Although I didn't rest too much – I was busy making a ginormous banana pudding (my mommy's famous recipe) and this tasty pea salad! I had never had pea salad, and I'm not sure what made me want to try it, but for whatever reason I threw it together and decided to take it to my parent's house for Easter Sunday. It was pretty good, too! I love the little cubes of cheese, and the bacon really gives it a good flavor. So, here is my "Peas Offering", if you will (hehehe), and I promise I'll try to do better with my food blogging in the coming weeks. Bear with me, ya'll!
Creamy Pea Salad
One 10-ounce package of frozen tiny peas (thawed)
1/2 cup chopped fresh celery
3 green onions, chopped (I used only the green parts, otherwise I think it would overpower the salad)
3-4 slices of bacon, cooked, drained and crumbled or torn
1/2 cup cheddar cheese, cut into tiny cubes
1/2 cup real mayonnaise
1 or 2 tablespoons sour cream (depending on how much you like)
salt and pepper to taste
*I like to chop the celery and cheese about the same size as the peas, so everything is the about the same size
Combine all ingredients and chill until needed. Pretty straight forward, huh?