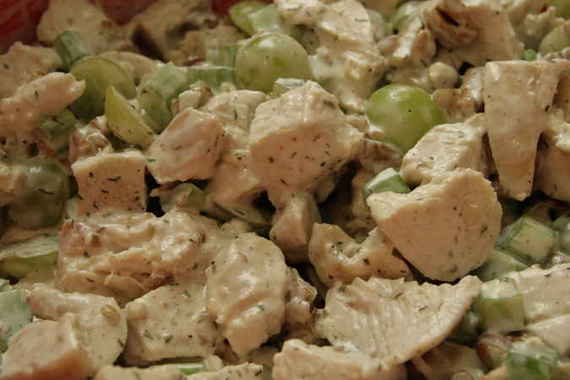 For those of you who don't know – Pioneer Woman is a cooking blog I really enjoy reading. Her recipes are really reasonable, simple, and of course, very tasty! She reminds me a lot of my big sister, Lindsay – they have the same sharp, witty personality. Maybe that's why I love her blog so much…  Anyway, I saw her recipe for chicken salad recently and decided I just had to try it (chicken salad is big in my family!).  As usual, it was very simple to make and tasted pretty good too – not as good as my mom's (hi, mom!), but you know how that goes…nothing is ever as good as mom's.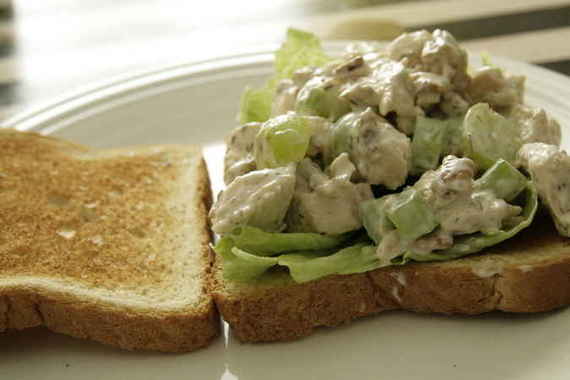 Pioneer Woman's Chicken Salad
1 whole fryer, cut up and poached
2-3 stalks celery, chopped
green (or red) grapes, cut in half (as much as you'd like, really)
fresh chopped dill
1/2 cup mayonnaise
1/2 cup plain yogurt or sour cream (I used sour cream)
tablespoon or 2 fresh lemon juice
tablespoon brown sugar
salt and pepper to taste
pinch cayenne pepper
After chicken has been poached and cooled – cut into small chunks. Toss in a large bowl with chopped celery and grapes (I also added some chopped pecans.) In another bowl, mix mayo, yogurt, dill, lemon juice, brown sugar, salt and pepper, and cayenne together. Pour over chicken/grape/celery mixture and toss to coat. Let sit in the refrigerator for at least 2 or 3 hours (overnight is best) so all the flavors can "marry". Pioneer Woman adds that you can also add some chopped bacon if you want! Yum!