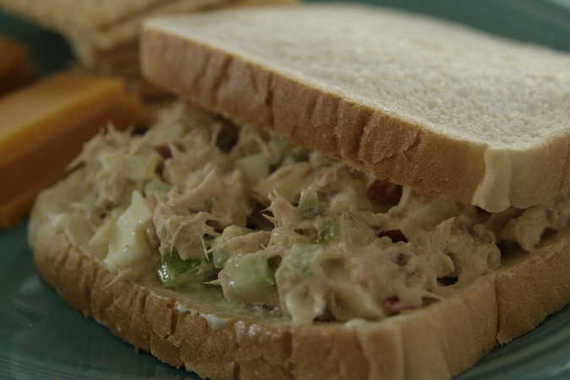 There's not a whole lot to say about tuna salad- it's nothing new. Most of us have been eating it our whole lives. In college, I used to eat it every day at lunch  when I worked in the music department office, and people would come in and go, "Ewww, what's that smell? Ugh, gross! Yuck – it smells fishy in here!", which actually really got on my nerves, but didn't stop me from eating it every day (hehe- take that, you tuna haters!).  Tuna salad can be pretty dull. Tuna, mayo, relish…not much to write home about. But with the right ingredients, tuna salad can be pretty darn tasty! I'll show you how I make it (and my mom, and grandmother, and sister…) and you can decide if it still sounds dull, mmkay? Here we go!
Tuna Salad
1 large can, chunk light tuna in water
1 celery stalk, chopped into very small pieces
2 dill pickles, chopped (not the uber-huge monster pickles, and not baby dill, either – just a regular sized pickle)
3 hard-boiled eggs, chopped
1 small apple, chopped (any kind of apple you like – I used Fuji, but if you like it more tart, Grannysmith is good)
approx. 1/4 cup mayonnaise (the real thing)
approx. 1/4 cup Miracle Whip
1 teaspoon Cajun Seasoning (I use Tony Chachere's…in my family, we use this on just about everything)
1/4 teaspoon Cayenne pepper
splash of pickle juice
Mix all ingredients together in a bowl and chill until ready to serve. Enjoy!
*As far as the mayo goes, you can use as little or as much as you like – these are just approximations, as I usually just throw some in and taste as I go.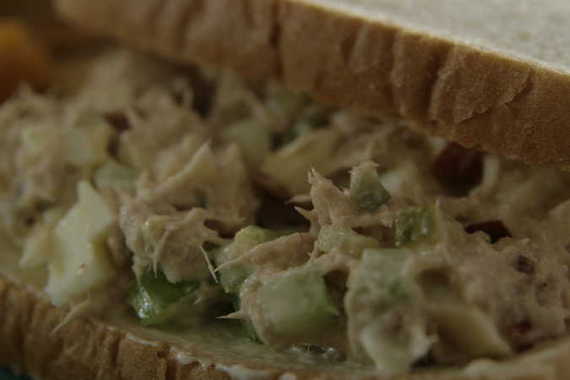 This is the tuna salad my family has been making forever – it's always delicious and perfect for a summer picnic! It's got a lot of crunch and a lot of flavor – hope you enjoy it!