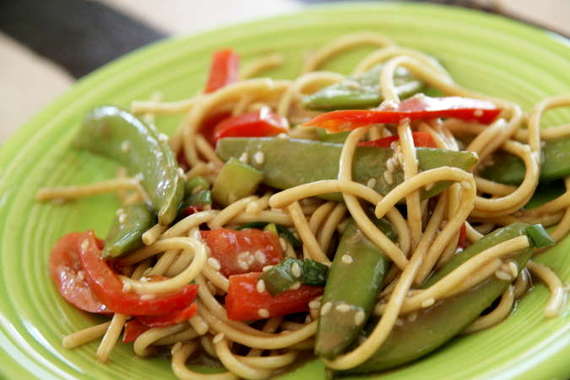 Who wants to turn their oven on when it's this hot outside? I don't know about you, but I certainly don't want to be cooking a pot roast when it's 100 degrees outside! After a long, hot day of running errands, yard work and cleaning house, all I want for dinner is something cool and refreshing – not warm and gooey. Don't get me wrong- I love a nice, warm tuna casserole as much as the next guy, but definitely not in the summer. That's why this salad is particularly nice. Cold, crisp, light – everything a summer salad should be!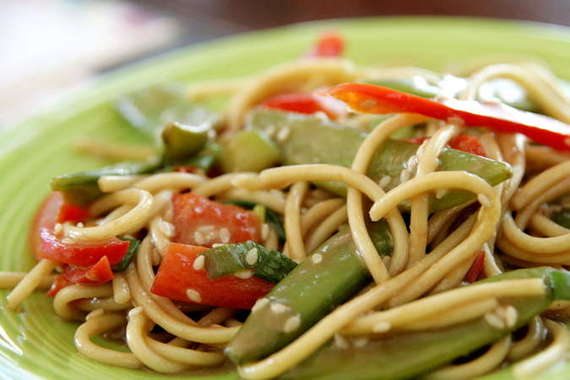 I made this for a Father's Day picnic with my parents. We went to an outside concert where you could take a blanket and a picnic and just spread out and listen to good music. So much fun! My mother brought cucumber sandwiches, cantaloupe, watermelon, cheese and crackers and summer sausage, and I brought this salad along with some chocolate cupcakes and pink lemonade –  what a great meal! We all really enjoyed the salad – it was absolutely perfect for a picnic! I really loved the crunch of the vegetables – so refreshing! This is a dish I will most definitely be making again and again – it's great because it gets better the longer it sits. I made it the night before and it was perfect the next day. This is an ideal summer salad – a definite keeper!
Crunchy Noodle Salad
-Barefoot Contessa
Kosher salt
1/2 pound thin spaghetti
1 pound sugar snap peas
1 cup vegetable oil
1/4 cup rice wine vinegar
1/3 cup soy sauce
3 tablespoons dark sesame oil
1 tablespoon honey
2 garlic cloves, minced
1 teaspoon grated fresh ginger
3 tablespoons toasted white sesame seeds, divided
1/2 cup smooth peanut butter
2 red bell peppers, cored and seeded, and thinly sliced
4 scallions (white and green parts), sliced diagonally
Bring a large pot of salted water to a boil. Add the spaghetti and cook according to package directions. Drain and set aside.
Meanwhile, bring another large pot of salted water to a boil, add the sugar snap peas, return to a boil, and cook for 3 to 5 minutes, until crisp tender. Lift the sugar snap peas from the water with a slotted spoon and immerse them in a bowl of ice water. Drain.
For the dressing, whisk together the vegetable oil, rice wine vinegar, soy sauce, sesame oil, honey, garlic, ginger, 2 tablespoons sesame seeds and peanut butter in a medium bowl.
Combine the spaghetti, sugar snap peas, peppers and scallions in a large bowl. Pour the dressing over the spaghetti mixture. Add the remaining 1 tablespoon of sesame seeds and the parsley and toss together.