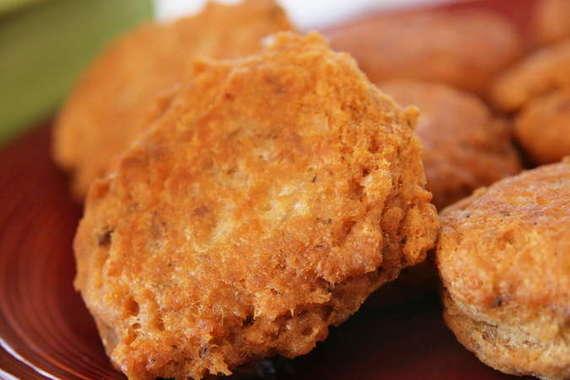 My mom used to make these a lot for us when I was growing up. They're good, crunchy little salmon patties mixed with egg and flour and fried. I loved them with lots of ketchup – and mashed potatoes on the side was a must (and still is!)! I hadn't had these in years, but finally decided to try my hand at making them for my hubby (he loves fish sticks, so I knew he'd go nuts for these!). They're so simple to make – all you need is a can of salmon and the rest, you probably already have in your kitchen. I was so pleased with how these turned out – hubby loved them, and I know I'll be making them a lot in the future!
Salmon Croquettes
1 15oz can pink salmon
1 egg
1 heaping tsp baking powder
1/2 c flour
chopped onion and garlic powder (optional. I used garlic powder and onion powder)
oil for frying
Heat a few tablespoons of vegetable oil in a large skillet. Reserve 1/4 c salmon juice in a measuring cup and set aside.  Place salmon in bowl, add egg and mix well.  Add flour, mixing thoroughly.  Batter will be thick.  Add baking powder in the salmon juice and beat with a fork until foam forms; measuring cup should be about 3/4 full (if it doesn't foam, baking powder is old).  Pour into salmon mixture and mix well.  Form into small patties and drop into frying pan 4 at a time. Cook until golden brown on each side (only a couple of minutes per side). Let drain on paper towls. Serve hot with ketchup.