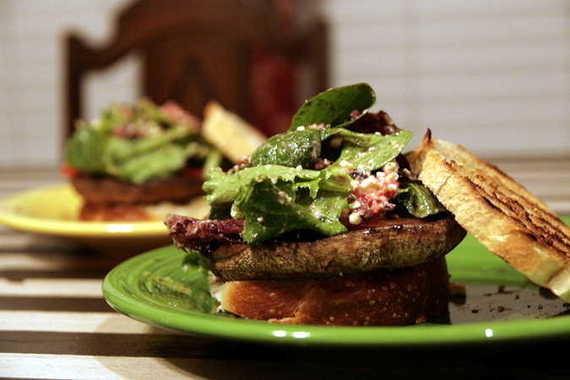 This is going to be a short post because I mean, how many different ways can you say how much you love something? I could go on and on, but I choose not to drive you crazy. I have found one of my new favorite meals. So satisfying, yet healthy – these Mediterranean Portobello Sandwiches are AWESOME. I mean, come on – feta, roasted red peppers, Kalamata olives…all on top of a delicious grilled portobello cap – Y.U.M.
Mediterranean Portobello Sandwiches
-Eating Well Magazine, June/July 2006 Issue
1 clove garlic, minced
1/2 teaspoon kosher salt
2 tablespoons extra-virgin olive oil, divided
4 portobello mushroom caps, stems and gills removed
4 large slices country-style sourdough bread, cut in half
1/2 cup sliced jarred roasted red peppers
1/2 cup chopped tomato
1/4 cup crumbled reduced-fat feta cheese
2 tablespoons chopped pitted Kalamata olives
1 tablespoon red-wine vinegar
1/2 teaspoon dried oregano
2 cups loosely packed mixed baby salad greens
Preheat grill to medium-high. (I used my indoor grill pan) Mash garlic and salt on a cutting board with the side of a knife until it's a smooth paste. Mix the paste with 1 tablespoon oil in a small dish. Lightly brush the oil mixture over portobellos and then on one side of each slice of bread.
Combine red peppers, tomato, feta, olives, vinegar, oregano and the remaining 1 tablespoon oil in a medium bowl. Grill the mushroom caps until tender, about 4 minutes per side; grill the bread until crisp, about 1 minute per side. Toss salad greens with the red pepper mixture. Place the grilled mushrooms top-side down on 4 half-slices of the bread. Top with the salad mixture and the remaining bread.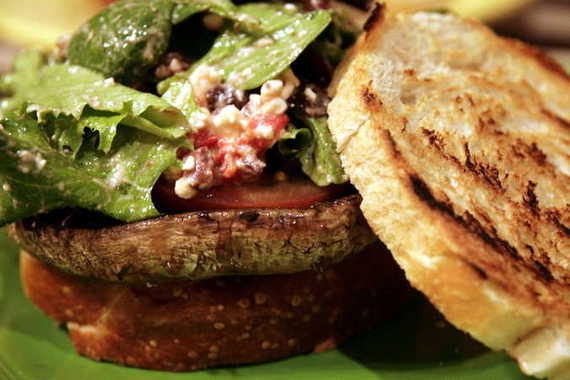 Now I'll warn you, these are super messy – don't expect to eat these without a little juice dripping down your hands and wrists. (Mmmm…portobello sandwich juice…..) But it's definitely worth it. So as soon as Spring comes around, bust out your grills and give these babies a try! Or if you're like me and you can't wait until warmer weather – just use your indoor grill pan. Enjoy!