For some reason, I've never been a big fan of meatball subs. They've just never really appealed to me. That all changed when I was perusing one of my favorite blogs, Sweet, Savory, Southern and I saw a recipe for turkey meatball subs. The picture looked so good, I decided I had to try this recipe. Good thing I did, too – YUM, these were excellent!! Hubby loved them and I was pleasantly surprised, myself! And I loved that it uses groung turkey – I really prefer to use turkey in place of groud beef. These were juicy and flavorful – I've made them twice now and they sure don't disappoint!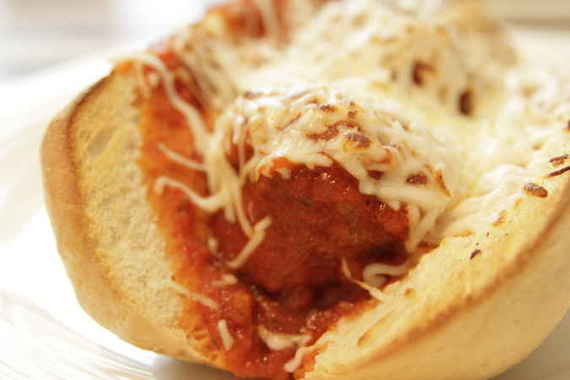 Turkey Meatball Subs
from Sweet, Savory, Southern
1 lb lean ground turkey
1/3 cup finely chopped onion
1 tsp Italian seasoning
1 clove minced garlic
1/2 cup bread crumbs
1/4 cup grated parmesan cheese
1 tsp each salt and pepper
1-2 Tbsp extra virgin olive oil
*1 jar marinara sauce
*sub rolls
*provolone or mozzarella cheese-2 slices per sub
Mix all ingredients in a bowl until just combined. Heat a skillet over medium heat with about 1-2 Tbsp olive oil. Form the turkey mixture into balls and place in the skillet. Turn the meatballs every couple minutes to brown on all sides. Add marinara sauce to the pan, cover and let simmer over low heat about 15 minutes to ensure the meatballs are completely cooked. Place 4 meatballs on each sub roll that has been sliced lengthwise and spoon the marinara sauce over the meatballs. Top with cheese (I used shredded mozzarella this time, but provolone is delicious as well) and place under the broiler for a couple minutes to toast the bread and melt the cheese.